The newest WhistlePig Boss Hog release is out, and it's a doozy. Like past years, WhistlePig Black Prince is a rye whiskey, although this time its original provenance is American (MGP) rather than Canadian. It's 14 years old, and it spent some time resting in Armagnac casks (a brandy made from aromatic white grapes) before it was bottled at cask strength.
In an interview, Dave Pickerell told us finding Armagnac barrels was a challenge, which makes a lot of sense. Like Cognac or Scotch, Armagnac producers use their barrels over and over again for decades, which means (unlike the bourbon industry) Armagnac is not producing a fire hose of used casks ready to be snapped up by buyers around the world. Tracking one down—especially one with any oomph left in it—was bound to be a challenge.
Black Prince takes its name from a real-life 14th century English Prince, Edward of Woodstock, who waged war for England in the southwestern region of France called Aquitane. Here, while not burning towns or pillaging farms, he is said to have very much enjoyed one of the great products of Aquitane: Armagnac. In keeping with that regal theme, it's also retailing for about $500.
The idea of a $500 bottle of MGP rye may send many eyebrows rocketing skywards. Where is the ceiling? Are all those new distilleries sitting on back stock barrels of MGP 95/5 rye now eyeing them with hunger, wondering if they should lock them up, throw away the key, and come back in 10 years to hunt for their very own Black Prince?
While the price may be astonishing, so too also, judging by the critical reception, is the whiskey itself. Earlier this year, it won Best Whiskey at the San Francisco World Spirits Competition, beating bourbons, Scotches, and Irish whiskeys from some of the most famous distilleries in the world. So, when WhistlePig sent a sample, I was excited to try it.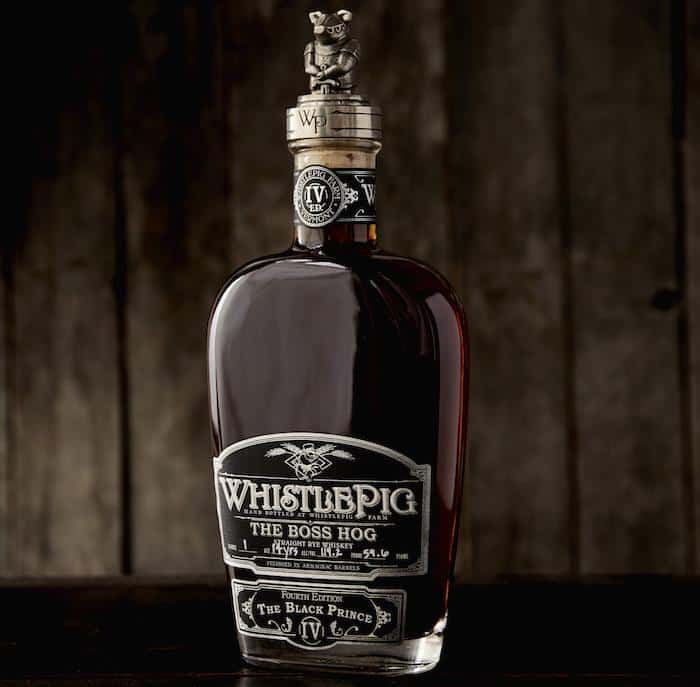 Vital stats: 14 years old, 119.2 proof, 95% rye/5% malted barley. Finished in Armagnac casks, around 6,000 bottles made. Retails for around $500.
Appearance: Medium amber
Nose: A deep, dark, rich nose with tons of rye grain, fresh fruits, and baking spice. I particularly notice black plums, clove, and peppercorn. A big dose of white grape mingles with expressive oak, lending this a vinious quality. Underneath it, I notice that fresh herb quality—dill and mint—that often makes itself known in MGP distillate. Very attractive.
Palate: First, a lightly sweet entry. Pause, and then an incredible punch of funky, savory flavor, almost like a washed rind cheese. It's rich, fatty, and intense, with colossal spice and a mouth-filling flavor that covers every inch of the palate and, seemingly, the flavor wheel. It's fruity, herby, spicy, earthy, and sugary, with a hefty dose of oaky vanilla to boot. The finish is long, but a near total lack of tannin makes this feel a little slippery in the mouth, and everything but the cracked peppercorn tingle is gone just a smidge too soon. 
The Takeaway
Yum. Delicious. I loved this. Big, brash, and shameless in flavor profile and price. I wanted a little bit more in the finish, but for a complaint, that's reaching. If money is no object, go forth and pillage!
User Review
3.01

(

299

votes)

InchDairnie Distillery recently announced its...
Margarett Waterbury is the author of Scotch: A Complete Introduction to Scotland's Whiskies and a full-time freelance writer and editor. Her work has appeared in Whisky Advocate, Food and Wine, Spirited Magazine, Artisan Spirit, Edible Seattle, Sip Northwest, Civil Eats, Travel Oregon, Artisan Spirit, and many other publications. She is...