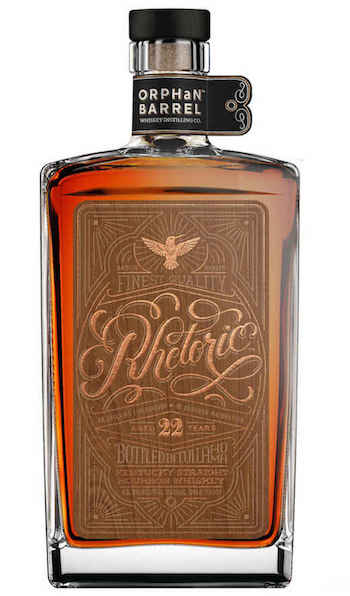 Summer has been wedding season, and if you're anything like me, you've had a few weekends blocked out on your calendar to celebrate the undying love of your friends, relatives, and distant acquaintances you once took a biology class with many years ago. Or maybe it's even your wedding that's on the books this summer (mazel tov!). No matter who's tying the knot, weddings are a perfect time to bust out a special whiskey. Here's what we'll be toasting with this year:
Orphan Barrel Rhetoric 23-Year-Old
The newest addition to the Orphan Barrel series is 23 years old, so there's a chance this whiskey is older than that Midwest cousin standing in as a groomsman. Some might say 23 years is too long for a bourbon to spend in a barrel, but that hasn't stopped consumers from snapping up the Orphan Barrel releases at lighting speed. This whiskey's high profile and cult following make it a great choice for an after-the-ceremony toast with your crew.
One of the three remaining distilleries in the Campbelltown region of Scotland, Glen Scotia recently released a 25-year-old whisky as part of its standard portfolio. Matured entirely in ex-bourbon casks, this single malt blends sweetness and spice with a classic Island-like saline quality that's sure to satisfy serious Scotch fans and impress even the most hard-to-please future father-in-law.
If we're going by cork topper alone, no other bottle of of whiskey matches the commanding presence of WhistlePig's annual The Boss Hog release. Adorned with a cast pewter flying pig and dressed up with a black tie-worthy label, this deluxe rye bottling isn't cheap, but it sure is delicious, and it's relatively widely distributed. The perfect sip for your last drink of single life.
Clear Creek McCarthy's Single Malt
Oregon's Clear Creek distillery is best known for its pear brandy, but it also produces an Islay-style single malt. Made from imported barley and matured partially in Oregon oak casks, McCarthy's impresses even the most die-hard craft whiskey naysayers, and it's affordable enough to buy several bottles for a whole-wedding toast or wedding party gift.

Editor's Note: This whiskey was...
Margarett Waterbury is the author of Scotch: A Complete Introduction to Scotland's Whiskies and a full-time freelance writer and editor. Her work has appeared in Whisky Advocate, Food and Wine, Spirited Magazine, Artisan Spirit, Edible Seattle, Sip Northwest, Civil Eats, Travel Oregon, Artisan Spirit, and many other publications. She is...