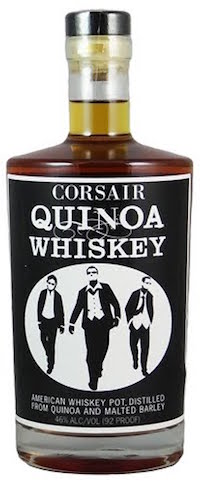 Editor's Note: This whiskey was provided to us a free sample to review by the party behind it. The Whiskey Wash, while appreciative of this, did keep full independent editorial control over this article.
Tennessee- and Kentucky-based Corsair distillery is one of the older small distilleries in the game, with a history that stretches all the way back to 2007—a date that practically counts as prehistory in the craft spirits game. The distillery is also one of the more highly-acclaimed producers of artisan spirits, as the Whiskey Wash noted last year.
Corsair's nine years in business have given owner and distiller Darek Bell ample time to tinker with various unusual grains, flavors, and smoking techniques, and it shows: the current lineup includes seven regular spirits and 19 (!) seasonal and experimental releases, ranging from relatively standard offerings like rye and spiced rum to off-the-wall ideas like aged gin, 12-grain bourbon, and triticale whiskey.
This quinoa whiskey is part of Corsair's regular lineup. Although the fact-checker in me feels compelled to ask—since quinoa is technically not a grain but a pseudocereal like buckwheat and amaranth—whether this spirit can even be called whiskey, I must be more pedantic than the folks down at the ATF, as they've been selling it since 2011. In any case, this spirit is made with an unspecified mix of red and white quinoa and malted barley, and bottled at 92 proof.
Tasting Notes:
Color: Well-steeped black tea
Nose: Quite nutty, with a dense, savory walnut predominating. After a moment, some lighter, sweeter notes like marzipan, pear, and vanilla come through.
Palate: Mouth-coating and surprisingly hot for a 92-proof whiskey. Walnut remains, but the malt is more prevalent on the palate, providing a toasty grain note.

Finish: Notes of spice and dark fruit—black cherry and currant—with some woodiness. Again, the finish is somewhat hotter than I'd expect given the ABV, and it lingers in a unique way, leaving a kind of sticky, tingly sensation on the tongue. It's not unpleasant, just… different. Fades to toasted hazelnut.
Conclusion:
This is a whiskey that's worth trying for novelty value alone, though it happens to be pretty tasty to boot. The heavy nuttiness is something I've never tasted in a whiskey, but it's far from a one-note experience. It's the type of successful experiment that makes me wish for more distilleries willing to fiddle with unusual grains instead of just dumping flavors into run-of-the-mill whiskey.

Scotland's Isle of Raasay Distillery...
Katelyn is a freelance writer in Portland, Oregon. She's a regular contributor to the Whiskey Wash with an affinity for the unique and weird side of whiskey.