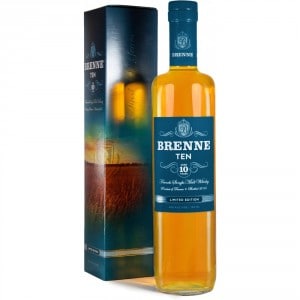 Editor's Note: This whiskey was provided to us a free sample to review by the party behind it. The Whiskey Wash, while appreciative of this, did keep full independent editorial control over this article.
Brenne 10 is a new age-stated line extension from the eponymous brand, an emerging purveyor of French single malt finished in cognac barrels. Brenne is a personality-driven company driven by photogenic founder Allison Patel, an eager marketer who reportedly discovered a cache of aging single malt stashed in cognac barrels somewhere in France. Who made the whiskey? Where? Why? Alas, those fact-based characteristics remain a mystery, although you may visit Brenne's Instagram account for an unobscured look into the brand's glam, female-oriented branding strategy.
Brenne's core expression, Brenne Single Malt, doesn't carry an age statement, although the brand reports an average age of seven years. I tried Brenne Single Malt a few months ago, and didn't care for it at all. Cloying and ester-driven, it reminded me of nothing so much as a Hefeweizen made by an inexperienced homebrewer. I was interested to see if three additional years of aging would remedy the overwhelming banana-bubblegum -Dole's Fruit Cup characteristics that I found so objectionable.
To my surprise, the answer was yes. Where Brenne Estate Whisky is inelegant and insipid, Brenne 10 is leaner and more focused, exactly what this whisky needs. This bottling consists of a blend of four casks "hand-selected for their distinctive complexity and balance by the brand's founder, Allison Patel." Quantities for this release are thus limited at 290 cases for 2015, but Brenne hopes to make Brenne 10 an annual tradition.
Tasting Notes:
Appearance: Light straw gold – much lighter than Brenne Single Malt
Nose: Curiously flat, with hints of peppermint, cranberry, agave, and green tea. It's a very mild, soft nose, almost vodka-like.
Palate: Fiery and aromatic, with notes of pear, hay, honey, melon, and a slight mustiness reminiscent of porcini mushrooms or white truffle. Much like fruit brandy, this spirit is simultaneously rough and delicate, herbaceous and earthy.
Finish: Long and highly aromatic.
Conclusion:
At $100 to $110 for a 750ml bottle, Brenne 10 is on the pricy side for what it is (consider that Highland Park 12, a fantastic single malt two years older than this one, retails for less than $50). However, this is undeniably a more sophisticated direction for Brenne, and (hopefully) a portent of better things to come.
FINAL SCORE: 88/100 
Margarett Waterbury is the author of Scotch: A Complete Introduction to Scotland's Whiskies and a full-time freelance writer and editor. Her work has appeared in Whisky Advocate, Food and Wine, Spirited Magazine, Artisan Spirit, Edible Seattle, Sip Northwest, Civil Eats, Travel Oregon, Artisan Spirit, and many other publications. She is...