We don't often see a lot of whisky from South Africa. But the James Sedgwick Distillery, currently helmed by master distiller Andy Watts, has just released the latest version of their 10-year-old single malt. It carries a 2005 vintage statement, and is one of the oldest releases to date from the distillery.
The new Three Ships 10 Year Old, according to the distillery, follows the successful release of the first single malt launched in 2003, and a collector's tin series over a three year period in 2010, 2011 and 2012. The 2005 run, bottled at 44.6% ABV, is said to have been produced under conditions in which "the year-round warm temperature accelerates the interaction between the cask and the spirit, allowing the whisky to portray an elegance associated with much older whiskies."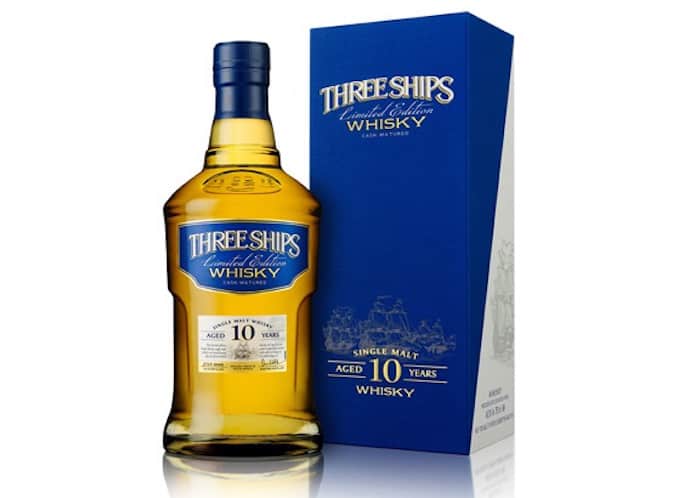 "When we launched South Africa's first single malt in 2003," said Watts in a prepared statement, "we didn't have a single malt style policy in place and since then we have actively planned towards this moment where we are now in the position to launch a vintage statement single malt, each year and one with a defined style and vision."
"I use the Cape winter months for fermentation to allow the yeast to follow its natural fermentation curve with as little temperature control interference as possible. We distilled the spirit in 2005 in copper potstills before it was laid to rest for 10 years in a selection of older American oak to compliment the delicate flavours of the spirit. It's a beautiful whisky and a very proud moment for me!"
Official tasting notes the the Three Ships 10 Year Old suggests a "combination of pepper, spice, sweet oak, roasted malt, digestive biscuits, dark toffee and peat [that] reveals slowly as the creaminess in the mouth lingers. The finish is exceptionally smooth, full-bodied with a long fruity, peaty aftertaste and slight hint of licorice."
This whisky is pricing around £30, or about $40 USD.

New York's Black Button Distilling...
Nino Kilgore-Marchetti is the founder and editor-in-chief of The Whiskey Wash, an award winning whiskey lifestyle website dedicated to informing and entertaining consumers about whisk(e)y on a global level. As a whisk(e)y journalist, expert and judge he has written about the subject extensively, been interviewed in various media outlets and...