Sometimes you just release an super premium whisky because you can, right? Sullivans Cove Distillery, one of Australia's most awarded whisky making operations, seems to think so, as it recently debuted a super rare bottling pricing $10,000 AUD, or a little under $7,200 USD.
What's known as Sullivans Cove Manifesto, according to the distillery, was made from a mix of three of its most award winning French oak casks, including HH0525 (the World's Best Single Malt Whisky), HH0390 (the Best Australian Single Malt 2015) and HH0509 (96.5/100 Jim Murray's Whiksy Bible 2013), as well as from samples of other "extraordinary unreleased French oak casks." Only two bottles of these, each 1,550 ml in size, were made available for this first batch.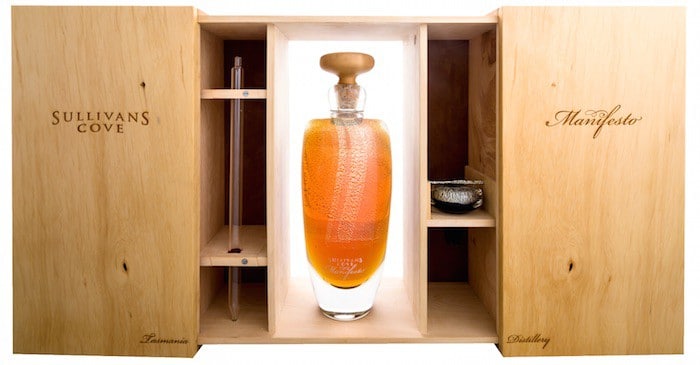 As is common with super fancy releases you get as part of the price of admission art level quality glass decanters which hold the whisky. In this case the decanters were hand crafted by two of Australia's best glass sculptors. Each comes with its own "specially blown glass spirit thief, a hand moulded travel stopper made from rare Tasmanian Huon pine and Portuguese cork and a matching glass stopper for everyday use. The decanters are housed in hand made Huon pine cases lined with doeskin."
One of the Sullivans Cove Manifesto decanters, made available directly from the distillery, is already sold out, while the other, for the moment anyhow, is available from wine and spirits retailer Dan Murphy's in Double Bay, New South Wales, Australia. Both were bottled at 47.9% ABV.
"Sullivans Cove and Tasmanian whisky in general have come a very long way and we wanted to create something really special that captures this," said Bert Cason, Sullivans Cove marketing manager, in a statement. "Using whisky from our top awarded casks plus some of our finest unreleased casks, we've created a malt that stands head and shoulders above the rest and promises the connoisseur the treat of a lifetime, not to mention a slice of whisky history."

Brown-Forman recently announced a $30.5-million-dollar...
Nino Kilgore-Marchetti is the founder and editor-in-chief of The Whiskey Wash, an award winning whiskey lifestyle website dedicated to informing and entertaining consumers about whisk(e)y on a global level. As a whisk(e)y journalist, expert and judge he has written about the subject extensively, been interviewed in various media outlets and...