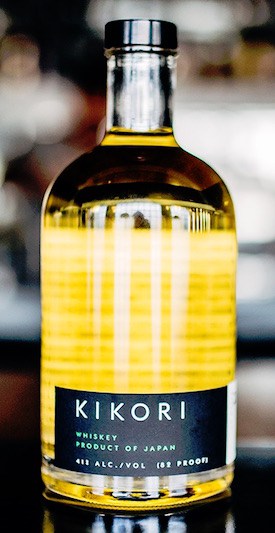 A whiskey is a whiskey is a whiskey…even if it is made from rice? I suppose that depends on how you define whiskey. What some call "rice whiskey" can actually be aged shochu, as Axis of Whisky recently pointed out in their review of Kikori Whiskey, the focus of this story. However you think of it, know as you read on those behind Kikori are marketing this spirit as a whiskey first and foremost.
Kikori Whiskey, which was launched in Southern California a few months back, is the idea of one Ann Soh Woods, co-founder of Soh Spirits. The spirit starts as rice sourced from a Japanese island that's then distilled using "pure mountain water." It is aged for three to ten years in a mix of French and American oak and sherry casks before being blended and bottled at a low 41% ABV.
Further information on Kikori found on some retailer websites indicates this spirit has been distilled on a stainless steel still through a single distillation process using polished rice as the grain. The distillate is then chill filtered, and no artificial colors are added to the final product.
Kikori is said to be best enjoyed in the usual ways, and it prices for around $40 a bottle. Official limited tasting notes are below, and I'll go ahead and qualify it as a world whiskey on our site. Do you think Kikori is really a whiskey? Leave us your thoughts in the comments below.
It's beautifully golden in color, with a floral and fragrant aroma along with notes of caramel, tree fruits and vanilla. On the palate, you taste notes of melon and toasted almonds with a faint layer of tart apple, balanced with an oak and sherry flavor and a finish that is both clean and bright.

Irish Distillers, maker of Method...
Nino Kilgore-Marchetti is the founder and editor-in-chief of The Whiskey Wash, an award winning whiskey lifestyle website dedicated to informing and entertaining consumers about whisk(e)y on a global level. As a whisk(e)y journalist, expert and judge he has written about the subject extensively, been interviewed in various media outlets and...