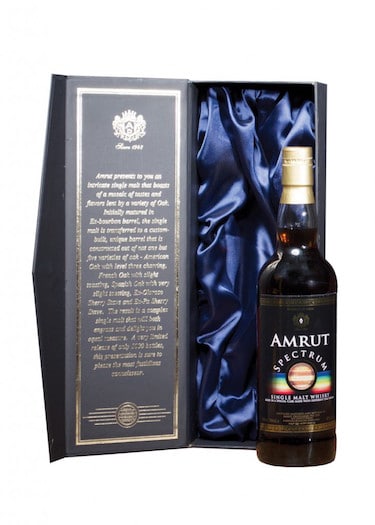 Have you ever had a whiskey from a hybrid barrel – a barrel made from different wood types? It's a strategy that remains relatively unexplored, which piqued India-based Amrut's curiosity as to how such a spirit might evolve. With this thought in mind, the distillery recently unveiled Spectrum.
Amrut Spectrum is an Indian single malt which was first aged for three years in ex-bourbon barrels. From there, it was then transferred for further maturation into a specially crafted barrel made somewhere in Europe that incorporated staves from various different types of wood. One of the challenges of making a hybrid barrel was that the different wood staves had different thicknesses and properties.
To address this, Amrut had five different barrels made, each consisting:
"Of a different type of wood, and corresponding staves removed to be stitched together in one barrel. The barrel therefore consisted of a mix of new American Oak, new French Oak, new Spanish Oak, ex-PX cask sherry cask stave & ex-Olorosso sherry cask stave. The five different woods, some old, some new, were expected to unleash a level of complexity on the malt unlike ever before in the centuries of whisky making."
The single malt was then aged three and half more years before final bottling, resulting in 1,000 50% ABV bottles. They are being released in Europe, Australia, New Zealand, Taiwan and Canada, and will price around £100 ($around $155 USD).
"It is the most exciting time at the distillery. As a team we have stitched this together and yet another time pushed the boundaries of innovation in whisky making," said Ashok Chokalingam of Amrut in a statement.
For those unfamiliar with Amrut, it is one of India's only true single malt whiskies. The distillery has bottled around 18 expressions, which are distributed in over 40 countries, including some here in the US.

Editor's Note: This whisky was...
Nino Kilgore-Marchetti is the founder and editor-in-chief of The Whiskey Wash, an award winning whiskey lifestyle website dedicated to informing and entertaining consumers about whisk(e)y on a global level. As a whisk(e)y journalist, expert and judge he has written about the subject extensively, been interviewed in various media outlets and...