Editor's Note: This whisky was provided to us as a free sample to review by the party behind it. The Whiskey Wash, while appreciative of this, did keep full independent editorial control over this article.
The penultimate release in Johnnie Walker's series of standard editions is Platinum Label. The 18-year-old blend occupies the space between the non age statement releases of Johnnie Walker Gold Label Reserve and the strictly top shelf Johnnie Walker Blue Label. Housed in an impressive oversized hard plastic box, Platinum Label is what Johnnie Walker considers to be their most appropriate blend to give as a gift. The gorgeous bottle and overall presentation make an impression before popping the cork, to be sure.
Enjoying their position as the world's top-selling whisky label has afforded the blenders at Johnnie Walker access to a wide range of single malts from which to shape their signature releases. In days gone by, master distillers would create "private blends" out of their more premium spirits. This is how today's Johnnie Walker Platinum Label is intended to be viewed and marketed. The packaging and presentation does this justice as the bottle stands apart from others on any display shelf, perhaps only taking an aesthetic second chair to the top-tier Blue Label. This is certainly appropriate given their respective positions in the overall lineup, with Blue Label commanding a suggested retail price nearly double that of the somewhat premium-priced Platinum Label.
In terms of profile, Platinum Label is best described as having a strong representation of the Speyside region of Scotland punctuated by the peat smoke of Islay. The release is bottled at an easily approachable 40% ABV (80 proof) and features an 18 year age statement. Bottles can be found selling as low as $85 (or below) per 750 ml, but are more commonly priced within the $95-$115 range.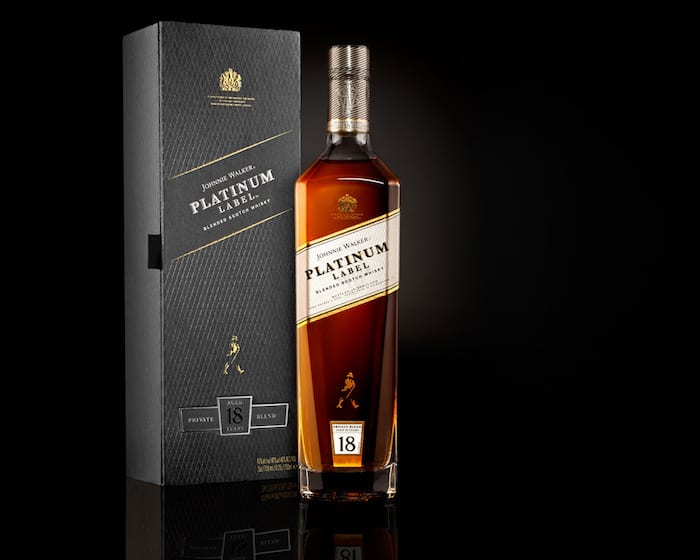 Tasting Notes: Johnnie Walker Platinum Label
Vital Stats: 40% ABV (80 proof), 18 year old, blended Scotch whisky, $95-115 per 750 ml bottle.
Appearance: A rich honey amber with reddish hues in the deeper recesses of the glass. Medium legs.
Nose: Malty, with sweet cream, vanilla, notes of candied almonds, lightly medicinal. Very subtle nose.
Palate: Sweet and easy to drink. Creamy and dry. Delicate. Notes of sweet cream, warm cinnamon rolls, grapefruit zest (which I normally despise, but find pleasant in this context). Smoke arrives quite late. The finish is soft, slow, and lightly smoky, with lingering malt notes and a hint of pipe tobacco.
Conclusion:
I would approach this blend with a note of caution; if you are drinking Johnnie Walker Platinum Label it should probably be the only dram you are drinking in order to get the full experience out of it. There are many whiskies for which this is true. (Looking at you, Laphroaig, Lagavulin, Ardbeg, etc.) Whereas those heavier whiskies tend to kill the palate and make it impossible to truly enjoy more delicate drams, this release is the polar opposite. "Delicate" is precisely the word that comes to mind when describing Johnnie Walker Platinum Label. I would venture so far as to say even a clean Glenfiddich runs the risk of overpowering the nuances of the blend. While it may seem a bit demanding, I would venture that your patience and attention will likely pay off.
To me, the release is most worthwhile when gifted to another, as intended. The price point and presentation certainly make a statement, while the dram itself is unlikely to offend the more novice of whisky enthusiasts. It is a very nice release. It is a friendly release. It is an easily enjoyable release. As for keeping a bottle in the rotation full time, I cannot see the label as necessarily being essential to any respectably stocked bar.
FINAL SCORE: 90/100 

Historically, whisky distillation in Scotland...
When not sampling whiskey, Joshua St. John can most likely be found running the trails of the Pacific Northwest surrounding his home in Portland, Oregon. A lifelong world-traveler, Joshua was first introduced to single malts while visiting distilleries in Scotland, and continues to explore the world through the countless interpretations...