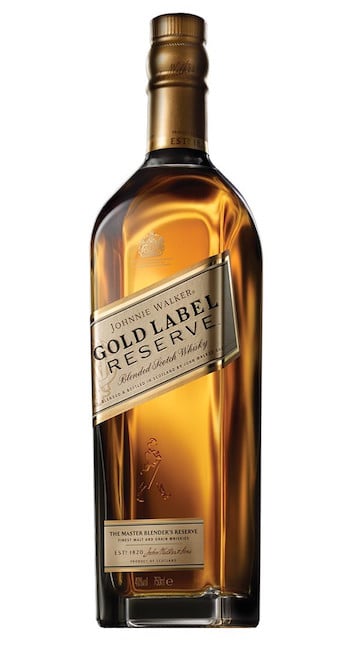 Gold Label Reserve marks the entry into what could be considered the premium releases of the Johnnie Walker Label series. Not to be confused with the previously available and now discontinued 18-year-old Gold Label Centenary Blend, the current incarnation of Gold Label features no age statement.
Diageo offers this release as Johnnie Walker's Master Blender's Reserve as well as naming it their Celebration Blend. Accompanying literature on the carton housing the bottle names Clynelish as a single malt featured in the dram. Additional details are elusive, as is normal with most blends.
The official Johnnie Walker website points towards cream, smoke, and sweetness being key attributes of the Gold Label Reserve flavor profile. Johnnie Walker Gold Label Reserve is bottled at 40% ABV (80 proof) and is available around the mid-to-high $80 price range per 750 ml bottle.
Tasting Notes: Johnnie Walker Gold Label Reserve
Vital Stats: 40% ABV, no age statement, blended Scotch whisky, $85-90 per 750 ml bottle.
Appearance: Honey and amber tones, medium legs.
Nose: Oak, malt, small amount of salted caramel, hint of kettle corn.
Palate: Sweet but flat. The whisky feels weak and watered down, almost as though ice were melted into it. Sweet vanilla, buttered corn, light amount of charred oak. There are very subtle wisps of smoke in the finish; the burn is quick and unsatisfying, leaving you with lingering flavors of butterscotch candy.
Conclusion:
 I find Gold Label Reserve to be the most frustrating of all the standard Label releases from Johnnie Walker. The discontinuation of the previous 18-year-old Gold Label and subsequent introduction of Platinum have rendered this release somewhat redundant. Taking a relatively short step up the ladder to Platinum, or – as I would highly recommend – down to Green Label would provide a much more enjoyable and intriguing experience.
Johnnie Walker fans and completists are probably the most likely audience for Gold Label Reserve, as it is doubtful that the dram would make converts out of more casual whisky sippers. For my money, the blend drinks like a mixer. This becomes problematic when paired with a premium price point. The simple fact of the matter is that there is nothing Gold Label Reserve does well that other Walker Labels do not do better.
FINAL SCORE: 80/100

Editor's Note: This whiskey was...
When not sampling whiskey, Joshua St. John can most likely be found running the trails of the Pacific Northwest surrounding his home in Portland, Oregon. A lifelong world-traveler, Joshua was first introduced to single malts while visiting distilleries in Scotland, and continues to explore the world through the countless interpretations...