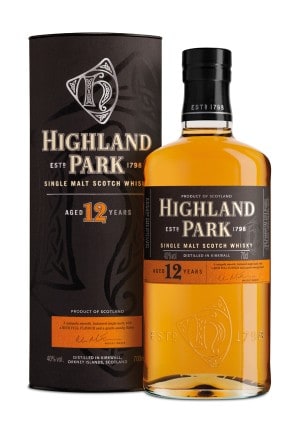 Founded in either 1798 or 1826, depending on which story you go by, Highland Park's location on windswept Orkney makes it the northernmost distillery in Scotland. Distilling at the site began back in the late 18th century, but it wasn't until 1826 that a license was granted for lawful operations. Even today, this Island distillery underscores its north-of-the-law heritage with vaguely Nordic branding and continuing reminders of its illicit past.
Highland Park is one of the few distilleries to carry on the tradition of floor malting, a labor-intensive process where barley is spread across a floor and regularly hand-turned for even germination before being kilned with Orkney peat, a famously heathery peat saturated by eons of salt spray. Only about 20% of the malt used to make Highland Park's whisky is floor malted; the remainder is unpeated and sourced from other suppliers. Most expressions (including Highland Park 12, the focus of this review) are aged primarily in sherry casks.
Highland Park's older expressions regularly win hyperbolic awards like "Best Spirit in the World" and "World's Best Single Malt," with the 25 years old recently being recognized with the first 100 point score at the Ultimate Spirits Challenge. So how does the Highland Park 12– the distillery's flagship single malt – stack up against its illustrious siblings?
Appearance: Ripe, rosy apricot in color with medium viscosity.
Nose: Notes of warm hay, citrus zest, white grape, orange blossom, and rose give an immediate impression of a late-summer garden. Peat aroma is very mild, expressing itself primarily as a kind of salty earthiness, like a flowerbed in full bloom after being fertilized with seaweed.
Palate: Initially dominated by very fresh, crisp notes of grain, with a continuation of orange zest and hay from the nose. Sweet marzipan and something sort of like…celery? in the midpalate, accompanied by a subtle, mouthwatering salinity. The finish is long without being overpowering, and delivers a welcome bitterness to anchor that sherry sweetness. The peat is subtle here, too, expressing itself as a recently extinguished campfire rather than a blazing pyre and lacking many of those bandaid/iodine notes that some find challenging
Highland Park 12 year old delivers complexity and substance at a price point most Scotches – even baseline bottlings like this one – are quickly eclipsing.  At $50 a bottle, this delightful whisky is a bargain I'd be equally happy to enjoy (and proud to serve) on a Tuesday evening as after Christmas dinner.
Score: 90/100 [SHOP FOR A BOTTLE OF HIGHLAND PARK 12]
[graphiq id="4rve6eWVA45″ title="Highland Park 12 Year Old Orkneys Single Malt Whisky Overview " width="700″ height="544″ url="https://w.graphiq.com/w/4rve6eWVA45″ link="https://whiskey.underthelabel.com/l/348/Highland-Park-12-Year-Old-Orkneys-Single-Malt-Whisky" link_text="Highland Park 12 Year Old Orkneys Single Malt Whisky Overview | UnderTheLabel"]

Britain spirits and wine merchant...
Margarett Waterbury is the author of Scotch: A Complete Introduction to Scotland's Whiskies and a full-time freelance writer and editor. Her work has appeared in Whisky Advocate, Food and Wine, Spirited Magazine, Artisan Spirit, Edible Seattle, Sip Northwest, Civil Eats, Travel Oregon, Artisan Spirit, and many other publications. She is...