Night of the Living Dead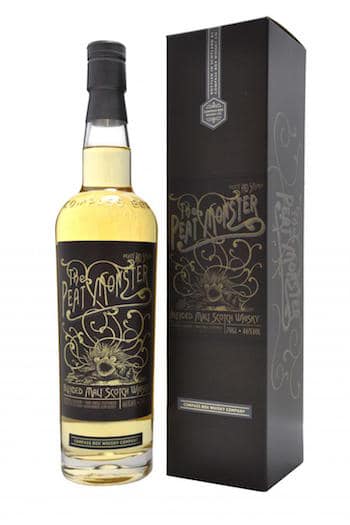 by George A. Romero. The Texas Chain Saw Massacre by Tobe Hooper. Psycho by Alfred Hitchcock. The Peat Monster by John Glaser.
You just have to love when a title lets you know exactly what is in store for you. At a certain point in any commercially viable creative process, a level of responsibility passes from the creator to the consumer. If a person were to take in a screening for The Texas Chain Saw Massacre expecting to have the cockles of their heart warmed by a romantic comedy, well, that misunderstanding is pretty squarely on them.
Likewise, it would be unwise if one were to belly up to the bar and order a dram of The Peat Monster in hopes of avoiding a clod of earth in the mouth. With a name like this, you are buying a very specific ticket. Now, take the ride.
It would be difficult to make a case against Compass Box for failing to inform their public in any way. As champions for transparency in the Scotch whisky industry, Compass Box has a decidedly open door policy. The company is more than willing to address inquiries regarding the contents of any of their blends. In regards to The Peat Monster, those contents typically include single malts from the Laphroaig, Ledaig, Caol Ila, and Ardmore distilleries as well as a Highland malt blend consisting of Clynelish, Teaninich, and Dailuaine.
The Laphroaig portion is the most prominent, making up 40% of the volume of the blend, whereas the Highland malt blend is roughly 1%. Between these upper and lower extremes, Ledaig fills in 20%, Caol Ila 13%, and Ardmore tops off the final 26%.
Each of the single malts involved are aged in refill hogsheads, while the Highland blend is housed in French oak burgundy toast casks for an additional two years minimum. Being as all components of this blend are malts and there are no grain spirits introduced, The Peat Monster is classified as a blended malt Scotch whisky.
As with all Compass Box releases, the final product is presented to the public without chill filtering or the use of artificial color. What you see is quite literally what you get. In terms of aesthetic, The Peat Monster takes a decidedly Lovecraftian approach.
The labels and box are predominantly dark leather in color with gold lettering and an artist's interpretation of an actual peat monster which runs the risk of being mistaken for some renderings of Cthulu. Overall, the look scratches me precisely where I itch. Though, I fully admit, this is a bit of a niche market.
Tasting Notes: The Peat Monster by Compass Box
Vital Stats: Bottled at 46% ABV (92 proof), no age statement, blended malt Scotch whisky, available around $50-$80 per 750 ml bottle.
Appearance: Very light yellow, nearly colorless like champagne. Strong legs.
Nose: Bacon, peat (of course), leather, tobacco, and iodine. Opens up in the glass to reveal powdered hot chocolate mix, warm copper reminiscent of a handful of new pennies, and a hint of chili powder.
Palate: Sweet, spicy, warm, and peaty. Sea salt, nougat, peat smoke, vanilla cream. Oily and soft mouthfeel. Long and smokey finish. Not overpowering in the burn. The peat takes center stage throughout the length of the finish. Notes of charred oak and a bit of ash late.
Final Score and Thoughts/Buy A Bottle: 
Score: 87/100

The blended malt category tends to be one that holds a somewhat special place in my heart. I find whiskies of this description to be incredibly diverse and fun to explore. In some cases, I stumble upon new favorites which become staples in my own collection. Other times, I am left underwhelmed and thirsty.
In the case of The Peat Monster, I am really not on either extreme end of the spectrum. I really do enjoy the dram. It is very tasty. I would even go so far as to say that I think many who are on the fence regarding peat influence in their whiskies may be drawn over to the smoky side by this blend. For all its dramatic posturing, The Peat Monster is a very drinkable whisky at its core.
While I certainly appreciate the pomp involved in the presentation here, I felt that there was a certain hook missing to draw me nearer to the monster on repeat tastings. To be honest, I am kind of at a loss to explain this. The Peat Monster combines many of my favorite elements from within and without the Scotch whisky landscape. However, the whole ended up falling somewhat short of the sum of all parts. All in all, a quite competent and fun blend. Just not one that will keep me up at night.

Twisted Tea Hard Iced Tea...
When not sampling whiskey, Joshua St. John can most likely be found running the trails of the Pacific Northwest surrounding his home in Portland, Oregon. A lifelong world-traveler, Joshua was first introduced to single malts while visiting distilleries in Scotland, and continues to explore the world through the countless interpretations...