Editor's Note: We've just launched sign ups for our upcoming The Whiskey Wash newsletter. Click here to join our list and stay informed!
Glenmorangie, located in Scotland's rather spread out Highlands whisky region, is a well respected Scotch distillery first opened back in the mid-1800s. Drawing its water source from a protected spring set in the hills above its location, Glenmorangie is known for having the tallest stills in Scotland, which stand close to 17 feet in height. They tend as well to use the barrels they have on hand for aging whisky only twice, believing this helps deliver maximum flavor to the spirit inside.
Glenmorangie Milsean, the focus of this review, is the seventh in a series of Private Edition releases from the Highland single malt distiller. These bottlings, always limited in scope, focus on unique expressions the distillery thinks are worthy because of rare and/or intriguing qualities. The name "Milsean" on this 2016 release translates to "sweet things" in Scotch Gaelic. The presentation of Glenmorangie's signature curvy bottle sees the labels and box adorned with bold red and white stripes, instantly more reminiscent of a confectioner's shop than your traditional single malt.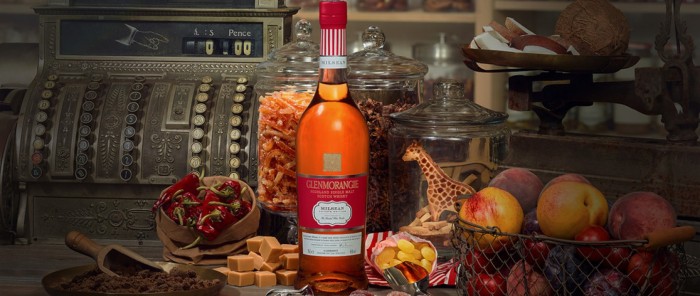 As is the trend — for better or worse — with so many limited releases in the Scotch world today, Milsean features no age statement on the label. Glenmorangie master distiller Dr. Bill Lumsden has chosen to finish this release in re-toasted Portuguese wine casks following initial maturation in ex-bourbon barrels. The intended result is to push Glenmorangie's traditional flavor profile deeper into the sweet realm, hence the candy shop aesthetic.
Tasting Notes:
Vital stats: 46% ABV (92 proof), no age statement, 100% malted barley, $105-$130 per 750 ml bottle.
Appearance: Copper with orange peel and greenish tones along the periphery. Strong legs.
Nose: Very light and subtle nose. Heaviest aroma is malt with oak, disinfectant, light floral notes, baker's chocolate, jelly candy.
Palate: Far less oak than expected from the nose. Flavors of kettle corn, orange zest, ripe plums, toasted coconut, cinnamon-roasted almonds, apricot candy. Very nice, velvety mouthfeel. Absolutely luxurious. Finish gives a medium to long burn which is as mild as it is slow. I get flavors of clove and ginger candy in the decay.
Conclusion:
It may be effective marketing influencing my palate, or perhaps the flavor of this dram successfully influenced that marketing to begin with. Either way, the sweet shop look of the bottle and box housing this whisky are right on the money. Glenmorangie Milsean lands decidedly in the dessert whisky category with a surprisingly layered flavor profile, though each layer is a variation on the central theme. This definitive identity can make the whisky a bit of a one trick pony over time, but that one trick is a crowd-pleaser.
Overall, the whisky drinks very easily while providing ample light-hearted amusement along the way.

When not sampling whiskey, Joshua St. John can most likely be found running the trails of the Pacific Northwest surrounding his home in Portland, Oregon. A lifelong world-traveler, Joshua was first introduced to single malts while visiting distilleries in Scotland, and continues to explore the world through the countless interpretations...