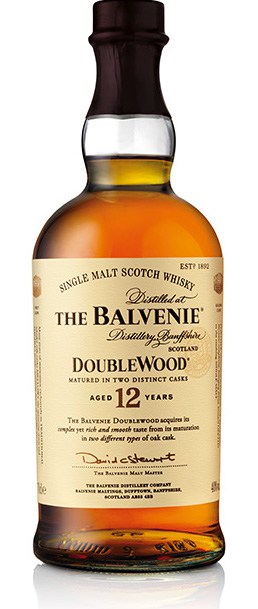 Editor's Note: The Whiskey Wash welcomes the latest review from the Whiskey Noobs reviewing team.
The Balvenie is a Speyside Scotch which, thanks to the genius of William Grant, opened all the way back in 1892. Just how long ago is that? It was the year that Ellis Island first opened to visitors. It was the year the first basketball game was played, and it was the year that the ever popular Grover Cleveland was elected President. Why mention all of this? Two reasons: one, I am a history teacher by trade so putting things into historical context is what I do. Secondly, and more importantly, to prove that The Balvenie has been around a long time and knows how to make a good Scotch!
William Grant didn't just wake up one morning and say "I like Scotch, I'm going to start my own distillery!" OK, maybe he did, but he had a history with Scotch. Dating back to 1866, he worked for the Mortlach Distillery as a bookkeeper and a clerk, where he learned the process of making whisky. It isn't even his first distillery. In 1886, he opened the world-famous Glenfiddich distillery.
Throughout the years, The Balvenie has grown into one of the largest and best-known distillers in all of Scotland. They produce nearly 1.5 million gallons of the brown stuff a year! They are also considered a "complete distillery," which means every aspect of the distilling process takes place on their grounds. This includes growing their own barley on the lands near the distillery buildings. They are also one of the few distilleries to have an active malting floor, and they make casks in their own cooperage.
As for their 12 Year Old Doublewood, it is probably their most popular expression. It is a great Scotch, especially for the price point, and a great Scotch for people just getting their palates acquainted with Scotch. It is aged for about ten years in bourbon casks, and finished for two years in sherry casks. So how about those tasting notes?
Matt
Color:  It takes on a dark gold, almost amber color
Nose:  A real blend of honey heather, oak and floral notes
Palate:  Very smooth, a nice sherry flavor develops, spicy in a good way
Finish:  Long, with hints of orange peel, very pleasant
w/ Water:  Takes on an oaken nose though it loses the sherry in palate, smoother, more spice in finish but better neat.
SCORE:  91
Jim
Color:  Gold, light amber
Nose:  Wood, oak, heather, similar to The Glenlivet 12.
Palate:  Smooth, sweet, spicy, pronounced sherry
Finish:  Long, sweet, warming
w/ Water:  More wood in nose, smooth, no change in palate.  More spiciness in finish.
SCORE:  93
[graphiq id="3raOtb7wNgN" title="Balvenie 12 Year Old Doublewood Single Malt Scotch Overview " width="700″ height="544″ url="https://w.graphiq.com/w/3raOtb7wNgN" link="https://whiskey.underthelabel.com/l/364/Balvenie-12-Year-Old-Doublewood-Single-Malt-Scotch" link_text="Balvenie 12 Year Old Doublewood Single Malt Scotch Overview | UnderTheLabel"]
User Review
3.31

(

13

votes)

Editor's Note: This whiskey was...
Jim Kee, a pharmacist and Scotch lover for 20 years, and Matt Dee, an American history teacher who also has a long love affair with whisky, began writing down their thoughts so that they could begin keeping track of the scotches they've bought and tried, and which were worth buying...