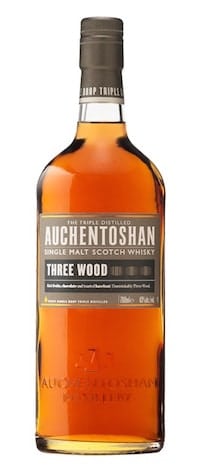 Editor's Note: The Whiskey Wash welcomes The Whiskey Noobs whiskey reviewing duo to our family of contributors. We will be publishing a mix of old and new reviews from them as time goes along.
Auchentoshan (pronounced "och'n'tosh'n") is one of only six Lowland Distillerys.  Founded in the very early 1800's (different sources differ on the year but the Auchentoshan website  states 1823) the distillery lies at the foot of the Kilpatrick Hills right outside of Glasgow.  It roughly translates to "the field of the corner."
Auchentoshan makes very unique Scotch, because all of it's products are the result of three distillations as opposed to only the normal two.  Auchentoshan is the only distillery to use triple distillation, which means less impurities and a higher alcohol content when distillation is finished (81% ABV opposed to 70%).
The Three Wood is then matured in, as you might have guessed, three different barrels.  First is the American Bourbon barrels where it matures for 12 years then it is transferred to Spanish Oloroso Sherry casks for a year.  That is enough to make a great tasting scotch right there but they don't stop at just great, they head for the sublime.  After the Oloroso it is finished for a year in Pedro Ximenez Sherry casks.
Three distillations.  Three casks.  One fantastic scotch.
Our history with The Three Wood began when we both had agreed that we really, really liked scotch.  We had become fans after realizing the wide range of flavors that can come from this water of life.  We heard about this particular Scotch from a few different sources.  It sounded so intriguing  that we began looking for it, the only problem being that it was nowhere to be found near us.  We searched high and low, online and in brick-and-mortar stores.  It also didn't help that the laws about shipping alcohol were a little strict in our great state.
When we finally found it we felt like we finally unearthed the Ark of the Covenant or found the Holy Grail.  Indeed it was our Holy Grail.   Nothing could live up to that kind of hype, what we had heard and what we had imagined in the months searching.  Well, almost nothing.  Just from the nose we could tell this scotch was special.  Special enough that it moved us to start writing down our thoughts on all the scotch we've had since that point.
The Reviews:
Matt:
Color:  Amber, almost the color of a blood liqueur
Nose:  A lot of sweetness including orange, vanilla and a nice honey-heather.
Palate:  A very nice candied sweetness and some orange.
Finish:  Toasted oak, with some anise.
w/ Water:  More wood, decent, better without
SCORE: 95
Jim
Color:  Amber
Nose:  There is a honey, vanilla sweetness to the nose.  The sherry finishing is pronounced here.
Palate:  It is a sweet whisky, with hints of nuttiness and dark chocolate.
Finish:  Fantastic in the finish.  It's long with essence of toasted oakiness.
w/ Water:   The addition of water really pronounces it's overall woody nature, not bad but better without.
SCORE: 92
Hunt down a bottle of Auchentoshan Three Wood for sale through online retailers here.
[graphiq id="42iBAJej3Jb" title="Auchentoshan Three Wood Single Malt Scotch Whisky Overview " width="700″ height="530″ url="https://w.graphiq.com/w/42iBAJej3Jb" link="https://whiskey.underthelabel.com/l/509/Auchentoshan-Three-Wood-Single-Malt-Scotch-Whisky" link_text="Auchentoshan Three Wood Single Malt Scotch Whisky Overview | UnderTheLabel"]

New York's Black Button Distilling...
Jim Kee, a pharmacist and Scotch lover for 20 years, and Matt Dee, an American history teacher who also has a long love affair with whisky, began writing down their thoughts so that they could begin keeping track of the scotches they've bought and tried, and which were worth buying...