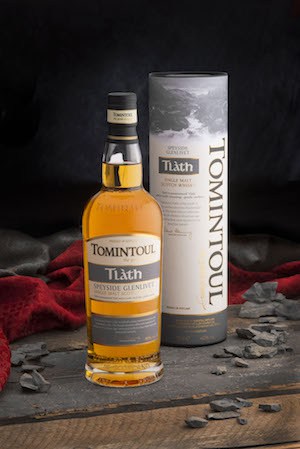 Over the past year, Tomintoul has embodied the full range of Scotch price points. On the very high end, for example, was the reveal of the 40 Year Old Quadruple Cask, pricing at £2,500, or about $3,300 USD. Now, on the other end of the spectrum, comes word of Tomintoul Tlàth, a non-age statement expression with a significantly lower price tag.
Tomintoul Tlàth, according to the distillery, "is the result of a very careful selection of individual casks. The hand-chosen collection consists of whiskies of various ages matured in first-class American oak bourbon barrels." It has been specifically designed to serve as an entry point expression for Tomintoul's core range of whiskies, and is said to represent "great value for money."
Now, should you be wondering about price, it is set to drop at under £30 per bottle, or about $40 USD. Pronounced "Tlah," the name derives from the Gaelic word meaning "gentle" or "mellow," and is said by distillery officials to reflect "the true meaning of our whisky which is known as 'the gentle dram.'"
Official tasting notes for the golden colored Tomintoul Tlàth, bottled at 40% ABV, are below for your consideration.
Nose: Quintessentially Speyside. Light, with some sweet toffee and vanilla and hints of mint leaf and citrus peel.
Palate:  Light and creamy. Lively white pepper and some oak-driven spiciness dance on the tongue with background layers of nutmeg and toasted vanilla.
Finish: Spicy with notes of shortbread and fresh mint.

Michigan's Iron Fish Distillery recently...
Nino Kilgore-Marchetti is the founder and editor-in-chief of The Whiskey Wash, an award winning whiskey lifestyle website dedicated to informing and entertaining consumers about whisk(e)y on a global level. As a whisk(e)y journalist, expert and judge he has written about the subject extensively, been interviewed in various media outlets and...