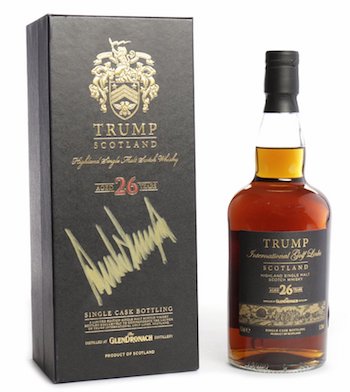 As we all settle in with a good amount of whiskey and ready ourselves for what should be an interesting (?) at least four years of American presidency under Donald Trump, it should be noted he's already had a tiny bit of an impact in the world of Scotch whisky. What this takes the form of is a rare single cask offering selected for Trump's golf course in Scotland a few years back by Glendronach, and now a bottle of it is up for auction in case you want to buy it for whatever purpose you see fit.
The Glendronach 26-Year-Old Trump Scotland Single Malt Scotch Whisky was bottled in 2012 after having been hand-selected by master distiller Billy Walker from thousands of single casks. It was chosen for the official Trump International Golf Links, a £750 million golf complex on the Menie Estate in Aberdeenshire, Scotland. As the story goes, Trump in 2010 is said to have "invited a handful of distilleries close to the course to create the finest whisky available for the resort." Apparently this Glendronach offering took the prize, with just over 500 bottles of it released after being drawn from a sherry cask.
Plans currently call for this particular bottle of Glendronach 26-year-old to be put up at auction on January 13 from McTear's out of Glasgow, Scotland. It is believed the whisky could grab quite a hefty sum given Trump's recent election to the highest American  electoral office. Part of the value will come from the fact the box the Scotch is housed in was signed by Trump himself.
"After his recent elevation to President of the United States, we're eager to see how much this bottle of 26 year old GlenDronach will fetch at hammer, estimated in excess of £2,500," said McTear's of this Scotch in a statement. "All politics aside, this is a stunning whisky in its own right and true collectors item."

And now for something completely...
Nino Kilgore-Marchetti is the founder and editor-in-chief of The Whiskey Wash, an award winning whiskey lifestyle website dedicated to informing and entertaining consumers about whisk(e)y on a global level. As a whisk(e)y journalist, expert and judge he has written about the subject extensively, been interviewed in various media outlets and...