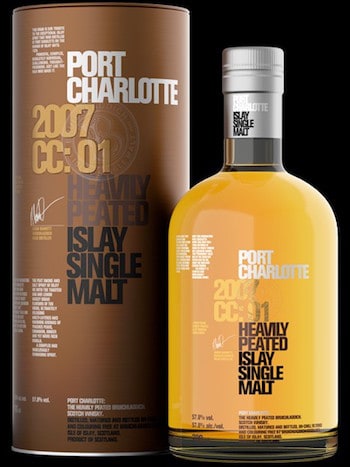 Bruichladdich is one Scottish distillery known for its love of peat, particularly evident in its Octomore line of ultra-peaty bottlings. Peat also appears in its Port Charlotte line up, the latest example of which is its Port Charlotte 2007 CC:01 expression, targeted for a travel retail release in April.
The Port Charlotte 2007 CC:01, according to Bruichladdich, is noteworthy for two additional reasons besides its use of peat. It is a tribute to the heavily peated whisky that was produced at Loch Indaal distillery, also known as Port Charlotte distillery, until its closure in 1929; and it is a "fascinating new exploration of how this sophisticated smoke-rich spirit is influenced by the cask in which it is matured."
Regarding this latter point, we draw your attention to the fact that CC:01 was "kept full term in finest French oak, slumbering on Islay for eight years in casks that previously held one of the great eau de vie from the western Cognac region."
What's emerged is a 57.8% ABV Scotch with some rather interesting tasting notes, as you can see below in expanded detail courtesy of Bruichladdich.
Color: Rose gold.
Nose: The DNA is Islay. Peat smoke and salt spray collide with the fruit and complexity of our classic spirit. poached pears, vanilla fudge and sweet apricots. Toasted oak and lemon barley sugar notes rise from the glass as it warms in your hand. As it breathes the whisky will release festive, warming aromas of cinnamon, ginger and more rich vanilla.
Palate: Irresistibly complex. This dram has layer upon layer of subtle fruit flavours so characteristic of our spirit wrapped comfortingly in the blanket of peat smoke. Yet there is a new dimension to this next release of Port Charlotte. A depth of character that comes from the years of maturation in ex cognac barrels. We have watched the spirit mature slowly over the last eight years to become a beguiling spirit that shows our spirit of curiosity and adventure is alive and well.
This spirit has taken us down many paths and this particular journey has come to fruition with a spirit that is a joy to taste. The wonderful french oak gives vanilla and spice and has brought this heavily peated Islay spirit to maturity with a class and finesse beyond its years. The fruit is rich and sweet – apples apricots and plums – as is the barley sugar and lemon honey notes that reassure you this is an Islay spirit matured in our warehouses under our watchful eye.
Finish: This whisky stays on your mind for longer than your palate and it stays on your palate for an age. Floral heather honey, zesty lemon and a nutty smoothness settle with the peat smoke that is always last to leave you. A truly astonishing whisky.

Editor's Note: This whiskey was...
Nino Kilgore-Marchetti is the founder and editor-in-chief of The Whiskey Wash, an award winning whiskey lifestyle website dedicated to informing and entertaining consumers about whisk(e)y on a global level. As a whisk(e)y journalist, expert and judge he has written about the subject extensively, been interviewed in various media outlets and...