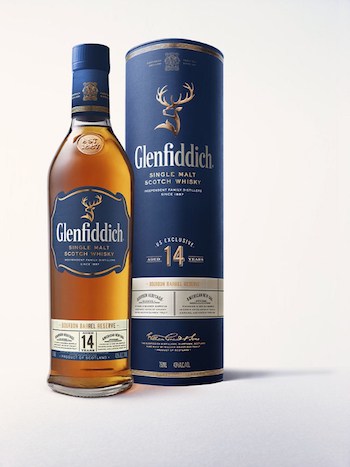 Scotch whisky maker Glenfiddich is reaching out across the Atlantic to its American fan base with the debut of a new permanent line extension known as the Glenfiddich 14 Year Old Bourbon Barrel Reserve. In what's being described as a nod to the domestic whiskey industry here, this release was aged in a mix of different American oak barrels before being bottled.
The Glenfiddich 14 Year Old Bourbon Barrel Reserve, according to the distillery, was first matured for 14 years in ex-bourbon American oak casks before being finished by their Malt Master Brian Kinsman in deeply charred, new American oak barrels. These latter containers, crafted by Kentucky's Kelvin Cooperage, are said to have imparted on the whisky a "rich, sweet and vibrant" taste profile.
Official tasting notes for this rich golden colored Scotch are below from Glenfiddich. The 43% ABV bottling, presented in a deep navy blue container, is set to price around $50. You can hunt down a bottle of it from a range of online retailers here.
Nose: Deep vibrant vanilla oak notes with hints of citrus, caramelized brown sugar and cinnamon.  Baked apple and ripe summer fruits are balanced with the rich oaky aromas.
Taste: Beautifully rich and sweet with layers of creamy toffee, woody spices, candied orange peel and fresh toasted oak.
Finish: Long lasting with a lingering sweetness.

Virginia Distillery Company recently announced...
Nino Kilgore-Marchetti is the founder and editor-in-chief of The Whiskey Wash, an award winning whiskey lifestyle website dedicated to informing and entertaining consumers about whisk(e)y on a global level. As a whisk(e)y journalist, expert and judge he has written about the subject extensively, been interviewed in various media outlets and...