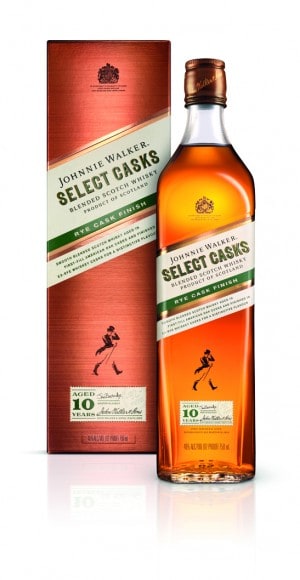 The Johnnie Walker brand of blended Scotch whisky is bringing to the US shortly a new bottling that interestingly was finished in experimental casks. It is the first in a planned series of releases known as the Select Casks.
The Johnnie Walker Select Casks Rye Cask Finish, bottled at 92 proof, was crafted by master blender Jim Beveridge, making use of Scotch whisky matured for at least ten years in first fill American oak casks. He then finished the blended whisky, which has Cardhu single malt at the heart of it, in ex-rye whiskey casks for half a year.
What's resulted from this is what's described as "a complex new whisky with rich layers of flavor starting with creamy vanilla notes and transitioning to a spicier finish." It will price for $45 a bottle when released. Other bottlings following it will each feature other cask finishes.
"From the early days when John Walker first blended whiskies in 1820 to the unique blends created today," said Beveridge in a statement, "Johnnie Walker has always thrived on experimentation. I believe that whisky is ever evolving and experimental in nature and I am pleased to present the first Rye Cask finished Blended Scotch Whisky."
Johnnie Walker Select Casks is a unique style of Scotch that blends the flavor characteristics of bourbon and rye with some of the classic signature notes and smoothness of Johnnie Walker Scotch Whisky."

Virginia Distillery Company recently announced...
Nino Kilgore-Marchetti is the founder and editor-in-chief of The Whiskey Wash, an award winning whiskey lifestyle website dedicated to informing and entertaining consumers about whisk(e)y on a global level. As a whisk(e)y journalist, expert and judge he has written about the subject extensively, been interviewed in various media outlets and...