The Glenmorangie distillery's Pride series is designed to represent the best of the best this single malt whisky producer has to offer, both in terms of the spirit itself and the packaging it rests within. Its upcoming 1974 bottling also represents the oldest Glenmorangie has released to date, clocking in at over four decades of maturation in cask.
Glenmorangie Pride 1974, according to the distillery, is a 41-year-old expression that was laid down back in October, 1974 for aging in a combination of ex-bourbon and ex-Oloroso sherry casks. Upon being deemed ready for bottling by Dr Bill Lumsden, Glenmorangie's Director of Distilling and Whisky Creation, last year, it was put into just 503 special crystal decanters at a bottling strength of 52% ABV.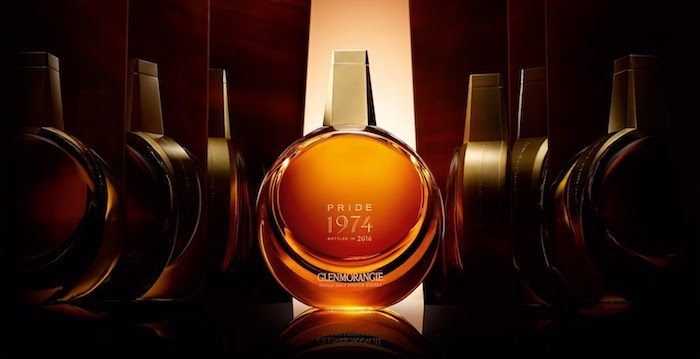 "When I tasted the stock, it was clear to me that the whisky had reached a sublime level of completeness," said Lumsden in a prepared statement. "Each of the parcels revealed to him its own intriguing characteristics, informed by its great age. The parcel matured in ex-bourbon casks displayed a wonderfully surprising finesse. Many of Glenmorangie's signature flavours such as citrus fruit and honey were present, but in some respects it was as if they had been baked together, for deeper, more intense flavours.  Meanwhile, the parcel matured in Oloroso casks had an astonishing power, with many, many of those classic sherry-cask notes, such as toffee, dates, chocolate and myriad spices."
You'll find more detailed official tasting notes below from Glenmorangie. As for pricing, expect to drop £7,200, or about $9,500, per bottle.
Aroma: Salted caramel toffee and chocolate truffles dance with Turkish delight, rum-and- raisin ice- cream and a hint of aged balsamic vinegar, for a nose wonderfully deep and rich. Add a splash of water to conjure warm brioche, yeast flour, ginger-snap biscuits and gentle blood orange, followed by baked bread and cedar wood.
Taste: A soft, gentle mouthfeel leads to the astonishing vibrancy of baked apples, oranges, honey and menthol. Then toffee comes forth, balanced by molasses, double cream, spicy clove and aniseed.
Finish: Pecan nuts and leather mingle with fudge and creamy caffè latte, for an aftertaste that is lingering and gently soothing.

Nino Kilgore-Marchetti is the founder and editor-in-chief of The Whiskey Wash, an award winning whiskey lifestyle website dedicated to informing and entertaining consumers about whisk(e)y on a global level. As a whisk(e)y journalist, expert and judge he has written about the subject extensively, been interviewed in various media outlets and...