Now and again a rare whisky emerges which has defied the test of time to become one of the oldest bottlings out there. Independent Scotch bottler Gordon & MacPhail is one of those who happens to have such older inventory sitting around, and now has released an expression pulled from a single cask of 70 year old Glenlivet single malt which was laid down at the height of the last major world war.
The Gordon & MacPhail Private Collection Glenlivet 1943, according to those behind it, was distilled in early 1943 before being put down as Cask 121, a sherry hogshead. To put things in perspective, around the same time the bung was being hammered into this cask, a world away in North Africa, Prime Minister Winston Churchill met President Franklin D. Roosevelt, General Charles de Gaulle, and General Dwight D. Eisenhower at the Casablanca Conference to determine the Allied strategy for World War II.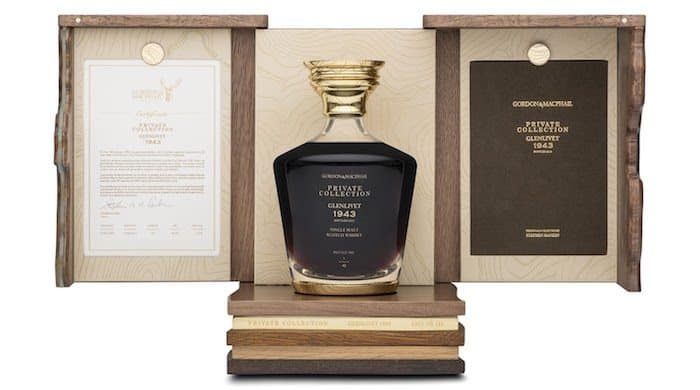 It is said that by the winter of 1943, whisky production in Scotland had slowed to a crawl due to the war. Many distilleries, including Glenlivet, ceased production and closed. The particular cask tied to this release luckily had be laid down prior to that, having been selected by John and George Urquhart, first and second generation of the Urquhart family and owners of Gordon & MacPhail, for future release. Stephen Rankin, a director of the company and John Urquhart's great-grandson, made the decision to bottle it.
"This beautiful whisky has been nurtured and cared for by four generations of our family and it gives us enormous pleasure to release this unique and incredibly rare single malt," said Rankin in a prepared statement. "Gordon & MacPhail has been in the whisky business for over 122 years, with each generation building and handing on a lifetime's expertise to the next. We believe Private Collection Glenlivet 1943 by Gordon & MacPhail is a malt without comparison from a defining date in the history of a world in conflict."
Plans call for only 40 hand blown decanters, bottled at cask strength (49.1 ABV) and adorned with gold engravings of the contours of the land surrounding the Glenlivet Distillery, to be made available globally at a price point of £30,000, or close to $40,000 USD. It is presented in a handcrafted wooden box, and accompanied by a commemorative book.
Below you will find full official tasting notes from Gordon & MacPhail.
Nose: This dram conjures up an image of luxurious comfy leather armchairs: rich, warming, and so approachable. The nose is subtle and encourages a further plunge into a concoction of coffee, milk chocolate, wood spices and burnt orange. Heavy and sweet initially, a beautiful perfume, and then, deep rich notes emerge, changing the tone of the conversation completely.
Palate: It is a beautiful experience tasting wonderfully old whiskies; the initial taste, the mouthfeel, is incredible. This dram delivers everything I expect and more. Its full-bodied viscous texture coats the mouth. The feeling is luxurious, the depth of flavours, stunning! The chocolate aromas have manifested a bitter edge entwined with the wood spices and charred notes. The sweet notes – perfectly balanced treacle and burnt caramel – mingle with a subtle orange essence that is almost, but not quite, overpowered by rich Sherry notes. A slight drying nuttiness through the mid and back of the palate adds a final layer to this beautiful melody of flavour.
Finish: Long and lingering, with subtle coffee, burnt caramel, Sherry, and stewed fruit melded in harmony with a soft, drying, nutty bitterness.

The Balevnie's Malt Master, David...
Nino Kilgore-Marchetti is the founder and editor-in-chief of The Whiskey Wash, an award winning whiskey lifestyle website dedicated to informing and entertaining consumers about whisk(e)y on a global level. As a whisk(e)y journalist, expert and judge he has written about the subject extensively, been interviewed in various media outlets and...