Let's just be clear as you settle in to read this story – you'll likely never be able to afford this whisky unless you (1) just cashed in your dot-com stock options or (2) win the lottery. What we are talking about here is the final release of The Macallan in Lalique Collection, an uber high end (read: expensive) series of bottlings, the last of which, when we reported on it back in 2014, was pricing around $25,000. Enter now Macallan in Lalique Peerless Spirit, coming in at a much higher dollar figure for a staggeringly old Scotch.
Macallan in Lalique Peerless Spirit, according to the distillery, is a 65-year-old whisky which is easily one of the oldest ever released by this prestigious outfit. Only 450 individuals will be able to snatch up a bottle of this 46.3% ABV Scotch which will likely end up as a collectible dusty on a shelf for many. For the few who do choose to crack it, they will drink a sort of nectar of the gods (our words, not The Macallan's) that was aged in sherry seasoned oak casks and has official tasting notes presented below for your consideration:
Nose: Supremely balanced with comforting notes of honey-dipped Madagascan vanilla pods, cinnamon and Moroccan dates.
Palate: Medium body with hints of cracked black pepper, cloves and delicately toasted cocoa beans.
Finish: Very long and deeply satisfying with a rich flavour of honey and dark chocolate.
As is with any release like this, a big portion of the overall sticker shock comes from the bottle itself. Once again The Macallan has turned to legendary French crystal house Lalique for one wow of a container. It is said the decanter's overall design "was heavily influenced by the blown and pinched technique as used by René Lalique for many of his famed Lalique perfume bottles."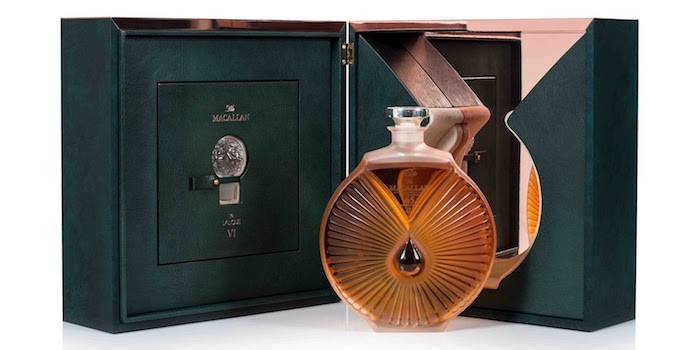 If all of this has you convinced and you're ready to crack your kid's college savings to buy a bottle, be ready to drop £23,500, or around $33,000 USD, when this Scotch becomes available in July. It is said you will be able to get one through specialist whisky retailers in the United Kingdom, including Harrods, Hedonism, and The Whisky Exchange.
"This stunning collection of decanters is the result of two kindred spirits, rooted in a shared passion for craftsmanship, detail and mastery," said Ken Grier, Brand Director for The Macallan, in a statement. "This sixth and final release continues to showcase the unwavering commitment of both the masters of Lalique and The Macallan to create beautiful and desirable objet d'art."
With the collection now complete, it is time to reflect not only on the exquisite whiskies that have been brought to the fore by The Macallan's Master Whisky Maker, but also on the extraordinary skills of the Lalique craftsmen carrying on the legacy of René Lalique, the man whose talent continues to inspire and influence.  It is the heritage, customs and traditions of both The Macallan and Lalique that have united to create this ultimate collectable collection."

Duncan Taylor Scotch Whisky recently...
Nino Kilgore-Marchetti is the founder and editor-in-chief of The Whiskey Wash, an award winning whiskey lifestyle website dedicated to informing and entertaining consumers about whisk(e)y on a global level. As a whisk(e)y journalist, expert and judge he has written about the subject extensively, been interviewed in various media outlets and...