Teeling Whiskey out of Ireland seems to be looking for any reason it can to release older Irish whiskey casks it is sitting on. One such release is its Revival series, focused upon the time during which the Teeling distillery in Dublin was opened. Known as Teeling Revival Volume II, it is pricing at €115, or about $130 USD.
The new non-chill filtered Teeling Revival Volume II, according to the distillery, is a 13-year-old single malt Irish whiskey which was distilled in 2002 and initially matured for 12 years in ex-bourbon casks. It was then given a further year in ex-Calvados French apple brandy casks before being bottled at 46% ABV. Official tasting notes are at the end of this story.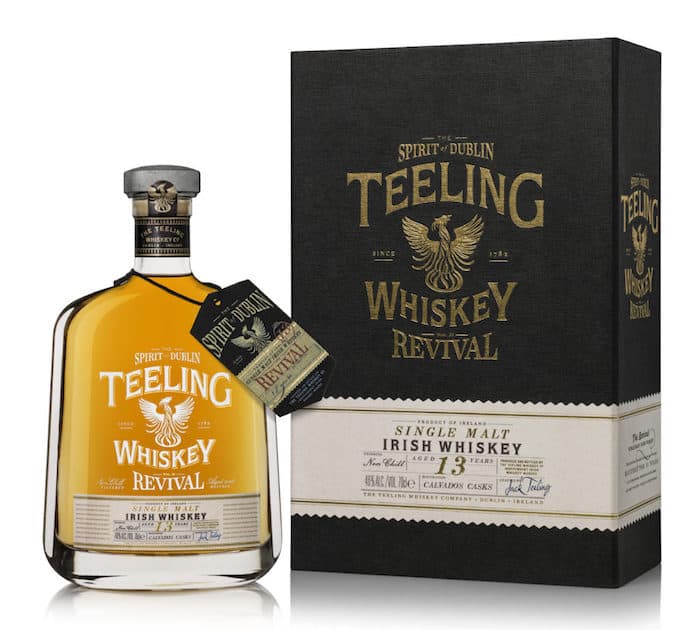 "The one-year anniversary of our award winning distillery and visitor centre is a major milestone in the history of the Teeling Whiskey Company," said Jack Teeling, founder and managing director of the Teeling Whiskey Company, in a statement. "We released Revival Vol I when the distillery first opened and one year on we are proud to unveil a second celebratory bottling – The Revival Vol II."
"Once again we selected a very special whiskey to celebrate the revival of distilling in Dublin with the first ever Calvados cask matured Irish whiskey. Our second bottling will be limited to only 10,000 bottles and sold both through our distillery as well as our domestic and international distributors."
The maturation provided by the Calvados cask creates a unique taste profile, reminiscent of floral baked apples and cinnamon rounded off with a toffee sweetness that's perfectly balanced with a white pepper spiciness. The signature tart green apple and cut grass hues of this limited edition Single Malt can be enjoyed neat, with water or in a cocktail. 

Irish Distillers, maker of Method...
Nino Kilgore-Marchetti is the founder and editor-in-chief of The Whiskey Wash, an award winning whiskey lifestyle website dedicated to informing and entertaining consumers about whisk(e)y on a global level. As a whisk(e)y journalist, expert and judge he has written about the subject extensively, been interviewed in various media outlets and...