Sliabh Liag Distillers recently debuted its smokey Midnight Silkie Whiskey across the United States, which completes The Legendary Silkie Collection for the Donegal distillery.
A statement from Sliabh Liag notes that this expression is the smokiest blend in the Silkie Whiskey collection yet, a triple distilled peated single malt with a rich, smokey, complex character that's distinctly different to lighter styles of Irish whiskey.
Before its official debut in the U.S., the Midnight Silkie Irish Whiskey won double gold at the San Francisco World Spirits Competition. In fact, every entry in The Legendary Silkie Irish Whiskey Collection won double gold or better in competition.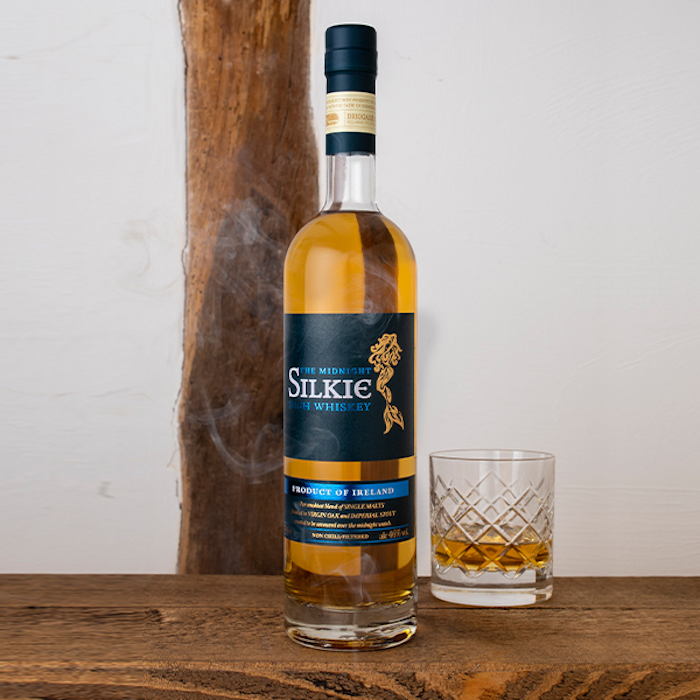 The distiller noted that this whiskey was inspired by company founder James Doherty's childhood memories of the aroma of his grandfather's tobacco pipe.
To do so, Midnight Silkie uses a variety of triple distilled, peated and unpeated single malts matured in Sherry, bourbon, Oloroso, red wine, virgin oak and imperial stout casks to attain the smokey, sweet tobacco and sandalwood fragrances that are found on the nose.
Doherty said this, their smokiest whiskey yet, "really harks back to a pre-prohibition time when Donegal's characteristic style was famed for warming, earthy flavors. Just one sniff has me transported right back to my grandparents' front room and the rich smells of the peat fire, pipe tobacco and fresh baking combining lusciously."
Designed to take drinkers on a journey through Irish whiskey, each blend from the collection increases in complexity and smokiness, offering a sense of Donegal's distilling style. Midnight's blend is bottled at 46% ABV, is non-chill filtered and has no coloring added.
Named after the legendary Silkie seals of the Donegal coast, mythical shapeshifters who turn from seal to enchanting sea maiden to steal the hearts of fishermen, The Midnight Silkie Irish Whiskey is priced at $46.99 and is available in all 50 states.
Midnight Silkie's blend is made up of:
Single Malt Triple Distilled Sherry & Virgin – 30%
Single Malt Triple Distilled Imperial Stout – 20%
Single Malt Triple Distilled (peated 55ppm) Bourbon – 35%
Single Malt Triple Distilled Oloroso – 5%
Single Malt Triple Distilled Red Wine – 10%
Sliabh Liag (pronounced 'sleeve league') Distillers is an independently owned distillery and their portfolio includes An Dúlamán Irish Maritime Gin, An Dúlamán Santa Ana Navy Strength Gin, The Legendary Silkie Irish Whiskey, Dark Silkie Irish Whiskey, The Midnight Silkie Irish Whiskey and Assaranca Vodka.
Sliabh Liag's new distillery at Ardara in County Donegal opened to the public on Aug. 1st. For more information on Silkie Irish Whiskeys, check out www.silkiewhiskey.com or www.sliabhliagdistillers.com.

Editor's Note: This whiskey was...
Gary Carter has been at the helm of metro newspapers, magazines, and television news programs as well as a radio host and marketing manager. He is a writer/editor/photographer/designer by trade, with more than 30 years experience in the publishing and marketing field. Gary enjoys working to build something great, whether...