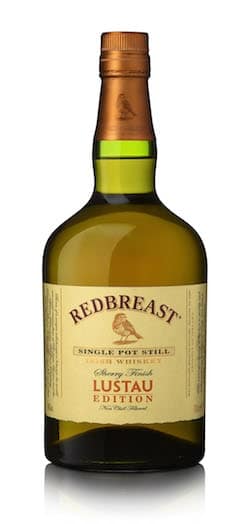 Popular Irish whiskey brand Redbreast, owned by spirits giant Pernod Ricard, has unveiled a new and permanent line extension to its offerings which got special extra finishing time in former Oloroso sherry casks. Known as Redbreast Lustau Edition, it begins a global rollout this month.
Redbreast Lustau Edition is a non-age statement variant of Redbreast that was initially aged in a combination of ex-bourbon and ex-oloroso sherry casks of unnamed origins. From there it was matured for one extra year, according to Redbreast, "in hand selected, first-fill sherry butts that are seasoned with Oloroso sherry from the prestigious Bodegas Lustau in Jerez, Spain."
"With Redbreast Lustau Edition we seized the opportunity to celebrate the iconic sherry influence on the Redbreast range, and to do this we turned to our old friends at Bodegas Lustau to source the finest Oloroso sherry casks in the world," said Midleton Head Blender, Billy Leighton, in a prepared statement. "Language is no barrier to this marriage of Spanish and Irish craft, and the result is an exceptional new Single Pot Still Irish Whiskey that champions the iconic sherry influence of the Redbreast range, and I hope that whiskey drinkers the world over enjoy it."
The new Redbreast will be priced at £55 in the United Kingdom and around $70 USD, among other markets it is being pushed into. It is bottled at 46% ABV and is non-chill filtered. Official tasting notes for it are at the end of this story from Pernod Ricard.
Nose: Rich infusion of dark fruits, prunes, dates and figs with liquorice, marzipan, toasted oak and Redbreast spices 
Taste: Creamy pot still with Redbreast spices balanced with richness of sherry finish and contribution of fresh Spanish oak
Finish: Endless. Sweetness and Pot Still spices endure while Oloroso Sherry and Spanish Oak have the last word

Kentucky's Augusta Distillery recently broke...
Nino Kilgore-Marchetti is the founder and editor-in-chief of The Whiskey Wash, an award winning whiskey lifestyle website dedicated to informing and entertaining consumers about whisk(e)y on a global level. As a whisk(e)y journalist, expert and judge he has written about the subject extensively, been interviewed in various media outlets and...