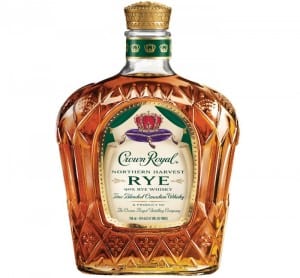 By now, Jim Murray's pick for 2015 Whisky of the Year is old news. His selection – Crown Royal Northern Harvest Rye – triggered poundings of the keyboard from every corner of the Internet, from the smallest hobby blogs to the Canadian Broadcast Corporation, Canada's largest mainstream news broadcaster.
Why did Murray name a $30 bottle of Canadian rye "Whisky of the Year?" Was it a calculated jab at the Scotch industry? A true diamond-in-the-rough discovery? Just one more in a long line of publicity stunts?
I don't care, and you probably shouldn't either. Ratings are great for publicity, but poor predictors of whether or not you're going to like a spirit. As Chuck Cowdery says, "Is there a universally-agreed-upon standard for whiskey? No, not even close. Even the top distillers can't agree on what would constitute a perfect whiskey."
So I approached this bottle of Northern Harvest Rye in a spirit of open-mindedness. One guy – Jim Murray – ostensibly really liked it, or at least thought it was good enough to stake his reputation on it. Will I really like it? Will you? There's only one way to find out.
My first indication that this might be an enjoyable whisky was that I had to restrain my distiller partner from finishing the thing before I could write a review. (He described it as having "good chuggability.") Once I muscled my way over to the bottle and poured myself a glass, I started to see what he was talking about.
Tasting Notes:
Vital stats: 90 proof, mash bill 90% rye/10% undisclosed, no age statement, retail pricing around $30
Appearance: Dark coppery gold
Nose: Gobs of red and dark fruit – cherry, plum, apricot, watermelon – drenched in wildflower honey. Warm multigrain toast, marzipan, and apple skins mingle with an almost falsely sweet aroma, like low-calorie sweetener.
Palate: Watermelon, cherry, and sour apple notes characterize the entry. The mid-palate is sweet – but not distressingly so – before it settles into a pleasant, somewhat metallic bitterness, like eating bread crust with an aluminum metal fork. Only in the long, tingly finish do I notice much in the way of canonical rye spice (cinnamon, clove, black pepper, etc.).
Conclusion:
This is an exceptionally fruit-forward rye more closely aligned with bourbon than funky, earthy American rye. The entire experience, from nose to finish, is clean, bright, and unmuddled. It's quite sweet, but the sweetness is balanced by a soft, grainy bitterness throughout that prevents the spirit from straying into syrupiness. A fun, bold sipping whisky for an affordable price.

Grant's recently announced the launch...
Margarett Waterbury is the author of Scotch: A Complete Introduction to Scotland's Whiskies and a full-time freelance writer and editor. Her work has appeared in Whisky Advocate, Food and Wine, Spirited Magazine, Artisan Spirit, Edible Seattle, Sip Northwest, Civil Eats, Travel Oregon, Artisan Spirit, and many other publications. She is...