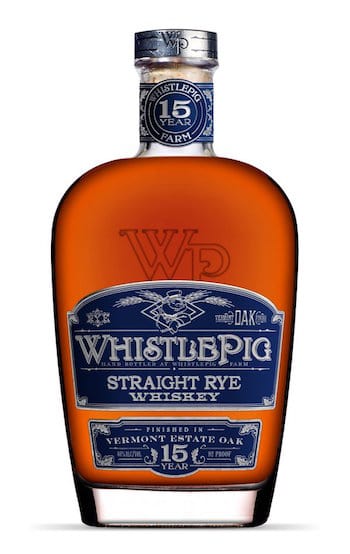 Editor's Note: The Whiskey Wash welcomes Natalie Padilla to our whiskey review staff. Also, this whiskey was provided to us a free sample to review by the party behind it. The Whiskey Wash, while appreciative of this, did keep full independent editorial control over this article.
Oh Canada, you've done it again. You've inspired a whole batch of enthusiasts to take up arms in pursuit of a perfected, pure rye whiskey. In this case, we're talking about WhistlePig.
WhistlePig is the brainchild of Raj P. Bhakta (former Apprentice contestant and politician) and David Pickerell (distiller of Marker's Mark fame), the latter of whom we've interviewed at length in the past about WhistlePig and other projects he's involved in. These guys have made it their mission statement to produce incredible 100% rye whiskeys as homage to the best ryes of America's past and Canada's present.
The hub of action for this whiskey brand is at Bhakta's WhistlePig farm in Vermont. WhistlePig has recently taken some steps to control their own whiskey-making destiny, including opening their own full service distillery. It will likely be several years, though, before we see the fruits of their labor. For now, we'll check out their latest sourced release: the WhistlePig 15 Year Old Vermont Estate Oak Rye Whiskey.
This 15-year expression is their oldest yet, being in barrel even longer than the 12 Year Old World Rye we reviewed last year. During aging, the Canadian-sourced whiskey was disturbed only once, as it was transferred from former bourbon casks to barrels made from WhistlePig farm Vermont white oak. WhistlePig points to this oak as a differentiator that imparts nuanced flavors from tighter grain patterns. They had this to say of the Vermont oak in press material they sent to us:
The Vermont Estate Oak Rye is a highly matured rye whiskey aged for 15 years, and finished in custom charred barrels made from Vermont White Oak trees logged on The WhistlePig's Farm. Due to harsh winters and a shorter growing season, these trees possess a denser wood grain, imparting a nuanced and distinct flavor into the rye. The Vermont Oak Rye is the next step in WhistlePig's mission to become fully farm-to-bottle, with the barrels coming from wood grown on the farm.
The WhistlePig 15 Year Old Vermont Estate Oak Rye Whiskey has a 100% rye mash bill and is 92 proof. It will be out in May, in limited edition fashion, for what Paste Magazine reports is a staggering nearly $200 a bottle. Here are my thoughts on the sample sent to us for review.
Tasting Notes:
Color: Chestnut sherry, thin & clear.
Nose: Strong notes of sweet toffee right away, rich and buttery. A slight hint of citrus.
Palate: Warm caramel on the tongue, quickly hits with black pepper, clove and a bit of fresh oak. The oak reveals itself as mild earthiness, like raw almonds, slightly bitter. The spice is light but lasting, giving a good heat and warm finish that leaves your tongue ablaze.
Conclusion:
This batch is quite smooth and just sweet enough, though it does leave lingering heat on the tongue. It's a great entertaining whiskey – a good batch to slowly sip on by the fire and an interesting conversation starter, but it won't steal the show. A fine juxtaposition of sugar and spice.
FINAL SCORE: 88/100

Editor's Note: These whiskeys were...
Natalie is a food & beverage analyst with Watershed Communications in Portland, Oregon. She has been involved with the f&b world for many years, first as a culinary arts columnist with The Harvard Crimson, at numerous start-ups (wine distributor, as well as artisan cheeseboard maker), and now as an ethnographic...