Known as the Great One, the exploits of legendary ice hockey star Wayne Gretzky easily stand on their own. But Gretzky, now retired, hasn't been content to live out his golden years idly, and has extended his personal brand name into the world of booze. Last year, we first learned of this through a new product release, and now word is out his distillery/winery has now opened alongside news of a couple of new bottlings.
The Wayne Gretzky Estates Winery & Distillery has opened in Niagara, Ontario, consisting of a modern barn-like structure designed by architect Gren Weis to feature "stone, metal, and stained wood to reflect the surrounding landscape and immense glass walls to allow for uninterrupted views of the vineyards." It was constructed over two years, and is a 23,000 square foot facility which includes a winery, distillery, tasting areas, retail and hospitality spaces, fermentation facilities, offices and barrel storage areas.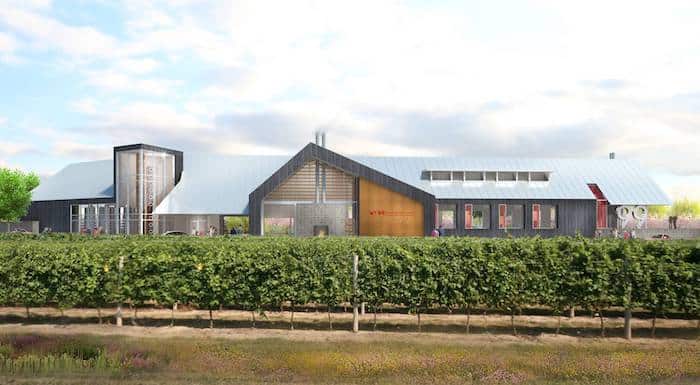 In addition to the new facility, which has opened, Gretzky and his team have introduced a couple of new whiskies for sale in addition to their already existing Wayne Gretzky No. 99 "Red Cask" Canadian Whisky. These include Ice Cask, a golden bronze colored whisky finished in Wayne Gretzky Vidal Blanc Icewine barrels, and Ninety Nine Proof, a deep amber bronze colored whisky that has been finished in Wayne Gretzky Cabernet Sauvignon barrels.
Very limited official tasting notes suggest the former  has "a long and lingering smooth texture with a hint of sweetness and flavours of toffee, carmelized apple, smoke and allspice," while the latter comes with "rich oak and baked fruit notes, along with a more pronounced rye-forward spice." Both are for sale exclusively at the distillery for the time being.
"We invite you to come in and try our new premium whiskys made the Canadian way with locally sourced grains that are individually distilled, matured and blended and then finished in Wayne Gretzky wine barrels – it's our unique process that delivers a refined and smooth taste," said Wayne Gretzky Estates Winery & Distillery master distiller Joshua Beach in a prepared statement.

Tamdhu Speyside Single Malt Scotch...
Nino Kilgore-Marchetti is the founder and editor-in-chief of The Whiskey Wash, an award winning whiskey lifestyle website dedicated to informing and entertaining consumers about whisk(e)y on a global level. As a whisk(e)y journalist, expert and judge he has written about the subject extensively, been interviewed in various media outlets and...