There are few more direct ways to associate a "Product of Kentucky" with years of distilling tradition than to slap the familiar image of a race horse and jockey prominently on its label. The imagery, and this bourbon's name, pay homage to William Monroe Wright, once-owner of the Calumet Baking Powder Company, whose farm was famous for its award-winning nags. The official website lauding this liquid claims that a "steep tradition of breeding winners" should give you the confidence to snatch up this beautiful bottle.
With the exception of the above information, and recipes for such southern-twanged cocktails like a Derby, Julep, or Old Fashioned, the Calumet Bourbon website offers very little additional information about the provenance of this bottle's contents. The fine print notes "Bottled for Western Spirits by Three Springs Bottling Company, Bowling Green, KY." Western Spirits' website also states that the whiskey was "bottled from hand-selected barrels," but from where we have few, if any, clues.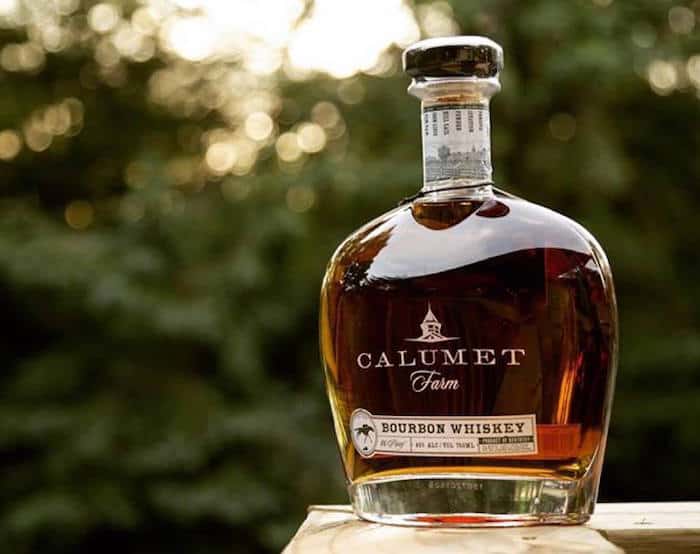 Western Spirits is most widely known for the success of its Bird Dog line of flavored whiskeys, which have set the cornerstone of their brand – we just reviewed recently, in fact, the Small Batch version of their Bird Dog bourbon. Calumet Farm Bourbon appears to be their attempt to capture yet another segment of the whiskey shelf, the ultra-premium. From the uniquely-shaped bottle, to the frayed parchment-like label, this bottle both blends in suspiciously with other similar high end products while standing out with its hefty, orb-like presence.
From the aroma through the finish, this whiskey is a pleasant sipper laden with nuances of sweetness and a crowd-pleasing inoffensively silky mouthfeel. For the neat bourbon drinker who shies away from abrasiveness, heat, and the pronounced flavor of oak, or the Kentucky mixologist crafting Derby standbys, Calumet Farm Bourbon is a functional, albeit spendy, bourbon offering.
Tasting Notes: Calumet Farm Bourbon Whiskey
Vital Stats: 86 proof. Made from corn, rye, and malted barley. No age statement. Liquid source unknown. As stated above, "Bottled for Western Spirits by Three Springs Bottling Company, Bowling Green, KY. $50 for a 750ml.
Appearance: Light, golden bronze with touches of pale yellow at the edges. Brilliant. Sticky legs.
Nose: Initial wafts bring to mind orange cream popsicles with a ribbon of butterscotch layered throughout. Deeper inhalations find a note of green bell pepper, however subtle, as well as the familiar aroma of squishy circus peanuts. Vanilla and oak are traditionally present yet only notable as a rounding finish to the nose.
Palate: At room temperature, the first observation is a thinness in body which allows the oak and heat to ultimately bring balance to the sweet aromas. Sweet and sticky could have easily been the downfall of this product, but water and excellent blending seem to have been used deftly here. Slightly smoky from char with grassy and woodsy flavors up front make way for lingering notes of dried apricot, caramel, and candied peanuts.
Final Thoughts:
This bottle looks beautiful on the shelf and will certainly impress any novice-level whiskey drinker. It puts forth simple, clearly defined layers of a sipping experience which will tantalize the palate of those who are used to an overall sweeter Bourbon encounter. The more adventurous sipper may find this to be a bit too 'average,' but would have no hesitation using it in a variety of Derby-themed cocktails. It is, after all, rather well-constructed for such a purpose.

Editor's Note: This whiskey was...