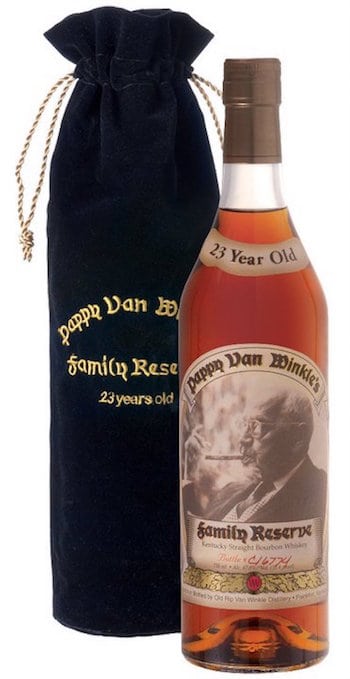 Editor's Note: This week we've been reviewing a range of bottlings that are part of the Old Rip Van Winkle/Pappy Van Winkle line up. We've so far checked out Old Rip Van Winkle 10 Year Old, Van Winkle Special Reserve 12 Year Old, Pappy Van Winkle 15 Year Old and Pappy Van Winkle 20 Year Old.
Well, you did it. You've arrived at the final review in our Van Winkle review series, and that means – you guessed it – Pappy Van Winkle 23 Year Old, the oldest Van Winkle expression, Pappy of Pappies.
And somehow, 23 years seems like a fitting age to end on. At least it does if you subscribe, like William S. Burroughs, to the 23 Enigma, the belief that the number 23 plays a central role in every important event throughout human history.
When you start looking, it all seems so obvious: Julius Caesar? Stabbed 23 times. Michael Jordan's jersey number, greatest basketball player who ever lived? 23. Twenty-three years ago Tag Team's inescapable hit single was at #2 on the charts, but I can assure you that Pappy Van Winkle 23-Year-Old has aged more gracefully than Whoomp! (There It Is).
There's not much left to say about this bottling – aside from a few dissenting voices who complain it's over-oaked, it's beloved by virtually everyone. It's also pretty much impossible to find, and back-breakingly expensive if you ever do manage to track a bottle down.
So consider this review more of an exercise in manifestation than a buyer's guide. For most of us, the only way we'll get to taste this bourbon is through luck: a friend's good fortune, a sneaky pour from our favorite bartender, an unexpected surprise at the holiday party or, in my case, a tiny little sample bottle! If the 23 Enigma holds true, it's all just a matter of time.
Tasting Notes: Pappy Van Winkle 23 Year Old
Vital Stats: 95.6 proof, 23 years old
Nose: Dark earth, forest floor, chocolate, tobacco, prunes, with a hint of minerality that was mostly absent from the other expressions. This reminds me of a dark, anise-y red wine, maybe something from Sicily. A drop or two of water reveals heady vanilla, apricot custard, geranium leaf, plum, pine, and cherry while leaving that humus-y earthiness unchanged.
Palate: immensely powerful: dark cocoa, dry tobacco, toasted walnuts, dates, buckwheat, and coffee bean, but all tightly integrated with tingly tannins. It's dry in the sense of powdery, with an incredibly long, earthy finish. That characteristic tartness I noticed in all of the other expressions is still present, but only as a faint whisper.
Conclusion:
Where the 20 Year is lush and rounded, the 23 Year is more austere, yet more complex. This is a grown-up whiskey, assertive and self-possessed. It's not an easy drinker, but it is a rewarding one, with seemingly endless layers of flavor that make me think the 23 Enigma is alive and well.
FINAL SCORE: 96/100

Margarett Waterbury is the author of Scotch: A Complete Introduction to Scotland's Whiskies and a full-time freelance writer and editor. Her work has appeared in Whisky Advocate, Food and Wine, Spirited Magazine, Artisan Spirit, Edible Seattle, Sip Northwest, Civil Eats, Travel Oregon, Artisan Spirit, and many other publications. She is...