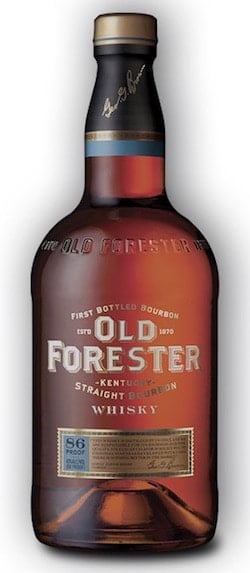 Editor's Note: This whiskey was provided to us as a free sample to review by the party behind it. The Whiskey Wash, while appreciative of this, did keep full independent editorial control over this article.
Old Forester, the nation's oldest continuously-operating whiskey distillery, produces a range of bourbons, from the high-end to the everyday. We recently reviewed their Birthday Bourbon and bottled-in-bond bourbon, both higher-priced expressions; this one, Old Forester 86 Proof Bourbon, is their middle-shelf release, priced at around $20.
Like all Old Forester bourbons, as well as Woodford Reserve, parent company Brown-Forman's other bourbon brand, the mash bill here is 72% corn, a relatively high 18% rye and 10% barley. It's aged four years and bottled, like the name says, at 86 proof.
In the glass, this whiskey is the bright copper of a new penny, with moderately-spaced legs.
On the nose, it has a typical bourbon profile: vanilla, honey, and caramel, along with a candy fruit note resembling a cherry Jolly Rancher. After some time in the glass, a touch of spice appears.
On the palate, it's fairly soft, with more honey, vanilla, and fruit, and a woody backdrop.
The finish is smooth and warm, and warm spice predominates upon swallowing. After a few seconds, however, that candied fruit makes another appearance, this time with a vaguely medicinal character that reminds me more of cherry cough syrup than anything else.
This whiskey is a decent value, though there's nothing particularly interesting about it. I find the candy/syrup note off-putting, but it's still a fine bourbon for mixing or casual sipping. All things considered, I give it a score of 79.
[graphiq id="4QmJN26yqRn" title="Old Forester 86 Proof Bourbon Overview " width="600″ height="500″ url="https://w.graphiq.com/w/4QmJN26yqRn" link="https://whiskey.underthelabel.com/l/1628/Old-Forester-86-Proof-Bourbon" link_text="Old Forester 86 Proof Bourbon Overview | UnderTheLabel"]

Editor's Note: This whiskey was...
Katelyn is a freelance writer in Portland, Oregon. She's a regular contributor to the Whiskey Wash with an affinity for the unique and weird side of whiskey.