When I think of whiskies that have never steered me wrong, Michter's comes to mind. Last year we wrote extensively on its history, from its Pennsylvania roots to 1980s bankruptcy to Kentucky-based reinvention. For you brown liquor history buffs, it's also been associated with the brand names Shenk's and Bomberger's.
Michter's recently opened distillery, located in Shively, a suburb of Louisville, serves as the hub of all of Michter's processing and bottling operations. They're also still in the process of renovating the historically and architecturally significant Fort Nelson Building in downtown Louisville, which will eventually serve as a tasting room and visitors center.
As we also mentioned previously, each year, Michter's releases a 10-year-old single barrel bourbon in very limited quantities. Their 2017 release of the 10 Year Single Barrel Kentucky Straight Bourbon is out now: It also marks one of the first special releases of a Michter's bourbon from Master Distiller Pam Heilmann. Upon her promotion at Michter's in 2016, she became the first woman to serve as a Master Distiller at a Kentucky Distiller's Association distillery since prohibition.
Based on my positive previous experiences with the brand, I was excited to give this year's go-round a try.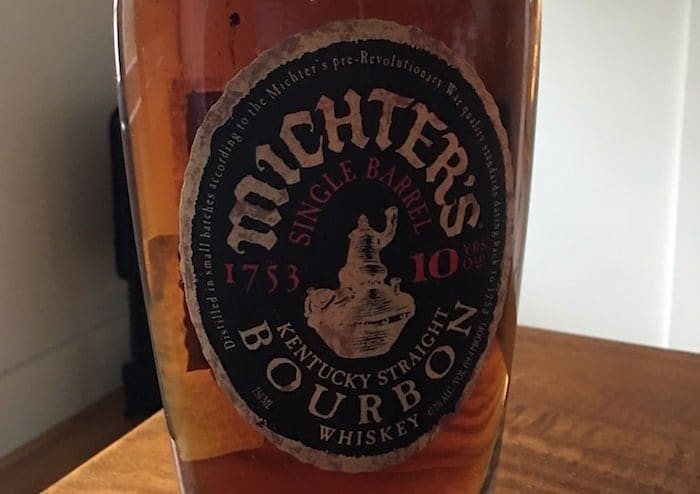 Vital Stats: 94.4 proof; suggested retail price $120.
Appearance: Glossy, browned butter; copper; dark honey.
Nose: If velvety had a smell, it'd be this bourbon. It immerses you in rich, buttery toffee; toasted wood; and caramel corn.
Palate: Oh, wow. Yep: It's smooth, delicious, and does not disappoint. It burns ever so slightly on the finish, but it's more of a soft glow than a rough departure. This is a bourbon I want to keep for special occasions, except I don't. I want to drink this all day. It's the bourbon equivalent of the furniture that's not cheap, but you also still want to sit on—and maybe find yourself asleep on after you have a couple pours of this stuff. Or like the perfect outfit, it makes everything look better.
The Takeaway
A good friend once likened Michter's to Werther's Original hard candies, and I must concur. It's not a saccharine, tooth-weakening syrup. Instead it's balanced, caramel, smooth liquid gold—that literal sweet spot when the sweetness of a candy fills your mouth at its just-dissolved point. Michter's never lets me down, and this is proof (see what I did there?). This is really, really freaking good, and just what I needed after a very stressful day. Or month.
User Review
3.03

(

227

votes)

Editor's Note: This RTD was...
A decade ago, I traded a 5th floor walkup in Hoboken, NJ for a house in SE Portland and remain grateful for the swap. Portland's a great whiskey town: It fits the weather and my general mood (even improves it sometimes). I enjoy exploring the many shades of brown liquor...