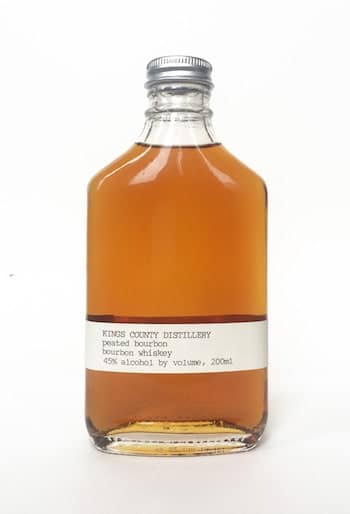 Founded in 2010, Kings County Distillery is the first legal New York state distillery since Prohibition, and a bastion of creativity within the whiskey community. Working with primarily New York state grain and traditional Scottish copper stills, Kings County continues to push the limits for high quality craft spirits.
Currently producing a "moonshine" style unaged whiskey, bourbon, chocolate whiskey, and barrel strength bourbon, Kings County has recently released a peated bourbon, which is he subject of this review. Also on the way for Kings County in the near future is a single malt.
Apparently the result of a distillery malt shortage, the Peated Bourbon was a happy accident. Faced with a waning supply of regular bourbon malt, a Kings County distiller grabbed some peated malt to finish the batch. A year later, the spirit was sampled and the results were so delicious they decided to start making that same Peated Bourbon again.
Whatever the story behind this release might be, it seems to be gaining some notoriety, even winning double gold at the 2016 San Francisco World Spirits Competition.
Tasting Notes: Kings County Peated Bourbon
Vital Stats: 45% ABV, and aged "one year or more," the Peated Bourbon appears from the offset to be a young, light offering. Seventy percent New York State organic corn from Lakeview Organic Grain, 15% Thomas Fawcett Golden Promise, and 15% Thomas Fawcett Concerto Medium Peated Malt (which is estimated to have a phenol ppm of 15-25).
Appearance: Medium caramel in the glass.
Nose: Toasted marshmallow, seafoam candy, semisweet chocolate, and sea salt. King's County doesn't necessarily smell peated, but does have a certain saltiness to it that offsets its round sweetness in a rather pleasing fashion. Spiced oranges, vanilla tootsie rolls, and saltwater taffy round out the nose.
Palate: The dram is salt-forward from start to finish, interspersed with rich bursts of flavor. Hot rubber, pretzels, slightly bitter baker's chocolate, warm leather, and hard candies define the palate. The body is meaty and rich; tannic, but not unpleasantly so. As on the nose, peat is not a primary element, but it is clear that this is an exceptionally complex spirit.
Salty, leathery, and chewy on the finish, white pepper, leather, and Goetze's caramels linger.
Conclusion:
Although King's County Peated Bourbon did not live up to my preconceived notions of what a peated bourbon might mean, it did blow me away with its delicious character, complexity, and clear attention to detail. Kings County continues on as one of the leaders of the craft whiskey renaissance in an ever expanding sea of craft whiskies of variable quality and honesty. A true American expression and something to be proud of.
FINAL SCORE: 93/100 

Editor's Note: This RTD was...
I am a graduate of Lewis & Clark College in Portland, OR whose Environmental Studies thesis focused on "Scotch Whisky, Sustainability, and Commodification of Nature & Culture". While writing my thesis, I spent time living and studying in Glasgow, Scotland where I visited and interviewed distilleries nationwide, concentrating on the...