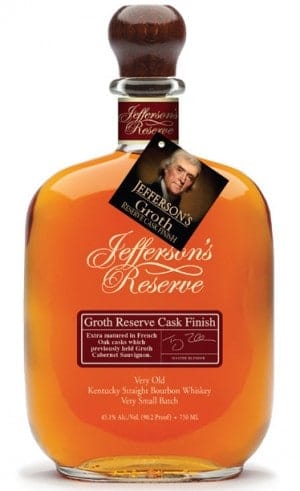 Editor's Note: This whiskey was provided to us as a free sample to review by the party behind it. The Whiskey Wash, while appreciative of this, did keep full independent editorial control over this article.
Jefferson's Bourbon, founded by father-son team Chet and Trey Zoeller in 1997, blends American and Canadian sourced whiskies to create a small variety of unique whiskies. Purchased by Castle Brands in 2005, Jefferson's blends whiskies to positive critical reception to this day. One such blending experiment is the recently released Jefferson's Reserve Groth Cask Finish, a whiskey aged six years in oak, then a further nine months in Napa's Groth Winery Cabernet Sauvignon casks.
A burnt caramel hue in the glass, the whiskey appears warm from the get go. With slight ethanol quickly dissipating on the nose, spice and a distinct burnt marshmallow scent follow. Warm caramelized oak and a fresh, almost wood-chippy impression marry together the nose. After opening up, the whiskey smells perfumed, with a natural sugar essence–reminiscent of palm sugar or dark maple syrup.
On the palate, the dram is full-bodied and chewy. Fresh whole grain bread, a buckwheat style nuttiness underlying. These aspects combine to make Jefferson's want for a Dutch stroop waffle accompaniment to mimic the near-burnt sugar and breadiness that characterize it. Altogether an entirely substantial, yet light dram.
The finish displays reserved oak, and again light maple as on the nose. A sentimental whiskey, to be sure. The Dutch cookie craving from the palate transforms in this finish to a full blown craving to vacation to the Canadian tundra to take in sugar-tapping season and drink glass after glass of Jefferson's by a wood fire.
At over $80 a bottle, Jefferson's Reserve Groth Cask Finish is not an everyday whiskey, but one whose character and composition demand a special occasion. I give the dram a formidable score of 95, and would happily purchase it for my next winter holiday gathering.

I am a graduate of Lewis & Clark College in Portland, OR whose Environmental Studies thesis focused on "Scotch Whisky, Sustainability, and Commodification of Nature & Culture". While writing my thesis, I spent time living and studying in Glasgow, Scotland where I visited and interviewed distilleries nationwide, concentrating on the...