Abraham Smith Bowman Distillery – otherwise known as A. Bowman Distillery – opened the day after Prohibition ended in 1934, and for years was the only legal distillery in Virginia. It was first founded on the Bowman family's large dairy and granary farm in a building that now has official designation as a historic landmark in an area now known as Reston, until it moved to Fredericksburg in 1988 to keep up with growth.
It was bought by the Sazerac Company in 2003, and continues to operate as a small "micro-distillery." A. Bowman Distillery spirits are today made at the hand of experienced Master Distiller Brian Prewitt, who was first steeped in the world of beer brewing before branching into distilling spirits.
A. Bowman Distillery produces a dark rum, a vodka and a gin, but is best known for its whiskey. In 2016, the distillery released its limited-edition Abraham Bowman Port Finished Bourbon, which was named the World's Best Bourbon that year (Whisky Magazine / World Whiskey Awards). Its latest release is another port-finished bourbon, this time a permanent addition to the distillery's line-up: Isaac Bowman Straight Bourbon Whiskey Finished in Port Barrels. This joins the bandwagon of a few other craft distilleries of late incorporating port into their spirits (read more in this 2016 post about the beginnings of the trend of port-barrel finished whiskies).
According to a Sazerac-issued press release , this port barrel-finished bourbon was "modeled" after the 2016 expression, which doesn't come as a huge surprise given the success of the 2016 limited-release. It was named for Captain Isaac Bowman, who, like his older brothers Abraham and Joseph, was an officer in the American Revolutionary War and is known for his spirit and adventure-filled life (and this 'character' is said to have inspired and come though in the whiskey).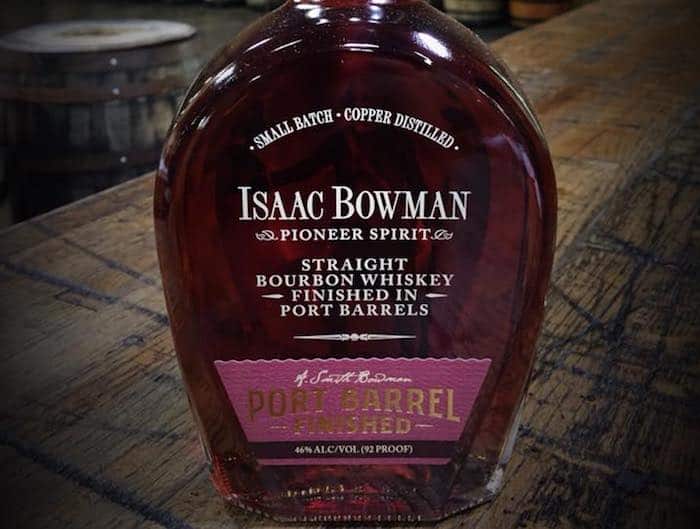 Tasting Notes: Isaac Bowman Straight Bourbon Whiskey Finished in Port Barrels
Vital Stats: The exact mash bill isn't disclosed, but is at least 51% corn. The whiskey is aged in new, charred American white oak barrels, with no age statement specifically available though it reportedly falls in the 4.5-5.5 year range. The port barrels used for finishing come from Virginia and Portugal, made using American and French Limousin oak, and the whiskey ages in these from 3-6 months before blending to create the bourbon to be bottled. It's bottled at 92 proof and 750 mL retails for about $40, with limited distribution at this point.
Appearance: Glossy with a port wine-kissed mahogany.
Nose: The port is noticeable from the get-go, as is stewed fruit – earthy and sweet. Another layer of lighter sweetness brought to mind gummy bears, followed by subtle spice.
Palate: Layered and complex. Stone fruit baked in a dough (like traditional hamantaschen or Pueblo prune pies). The sweetness isn't cloying, but rather playful and rich and it dissipates nicely. A bit of oak and warm char balances the finish.
The Takeaway
For anyone wary of port-finished bourbons or other whiskey becoming too sweet, this one draws on some of the boldness and character of port without becoming overly saturated. According to the distillery, some whiskey from each batch produced of the Isaac Bowman Straight Bourbon will be reserved for blending into the next batch, "to ensure consistency in flavor and color." Could be interesting to try future batches to gauge how it may (or may not) evolve.
User Review
3.1

(

118

votes)

Kentucky's Augusta Distillery recently broke...