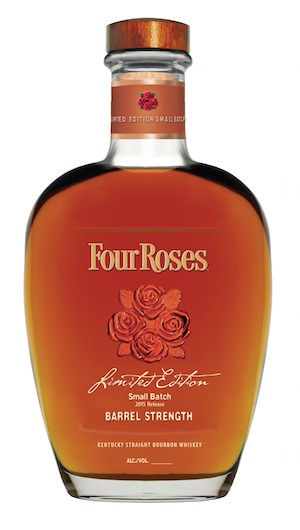 Editor's Note: This whiskey was provided to us as a free sample to review by the party behind it. The Whiskey Wash, while appreciative of this, did keep full independent editorial control over this article.
Mid-September marked the annual release of one of Four Roses' most coveted collectible expressions: the Limited Edition Small Batch. Hand-selected for blending by Four Roses' master distiller, Jim Rutledge, this whiskey has won some major accolades, including being named American Whiskey of the Year by Whiskey Advocate back-to-back in 2012 and 2013.
This year's Limited Edition Small Batch release is extra special. It's the last of its series to be released under the careful eye of Rutledge. The title "Master Distiller" gets tossed around a lot these days, often attached to an enthusiastic small business owner who, until recently, worked as a software engineer or CPA. That is not Rutledge. This year, he's retiring after a 49 year career in the spirits industry, highlighted by being a driving force behind the revival of the brand in the early 2000s and as tireless a champion of Kentucky Bourbon there is.
Four Roses' new head distiller, Brent Elliot, meanwhile, plans to carry on Jim's tireless pursuit of quality and noted disdain for flavored whiskeys of all types, a relief to bourbon purists everywhere.
One of the interesting things about Four Roses is its ingredient transparency. The distillery's unique, four-character system tells you exactly what's in a whiskey's original grain bill and which of the five proprietary yeast strains was used to ferment the mash. This year's Limited Edition Small Batch is a blend of four spirits:
A 16-year-old OBSK
A 15-year-old OESK
A 14-year-old OESK
An 11-year-old OBSV
If you're not familiar with Four Roses' acronym conventions, O indicates the whiskey was distilled at the Four Roses distillery in Lawrenceburg, Kentucky, and S stands for "straight," as in straight whiskey.
The second-position character indicates the mash bill. The E mash bill is 75% corn, 20% rye, and 5% malted barley, and the B mash bill is 60% corn, 35% rye, and 5% malted barley.
The fourth character represents the yeast strain. Four Roses uses five different yeast strains in its products. This spirit uses two of those: the K strain, described as "light spiciness, light caramel, and full-bodied;" and the V strain, known for "light fruitiness, light vanilla caramel, and creamy."
The Review: Four Roses 2015 Limited Edition Small Batch
Proof: 108.5
Age: The youngest whiskey in the bottle is 11 years
Color: Rich honey color, thick and viscous in the glass
Nose: Prickly in the nostrils, like a fresh coat of shellac. Chocolate-covered cherry and vanilla aromas mingle with earthy notes like nutmeg, humus, and leather as well as weathered wood and green herbs.
Palate: The flavor of this whiskey is very well-integrated, segueing seamlessly from entry to finish. At first there's a strong sweetness and toasty grain quality, something like buttered rye toast slathered in honey, followed by nutmeg, apricot, and cooked fruit. The mouth feel is silky and creamy, with limited tannin and astringency. The high proof really works for this whiskey, keeping the flavors bright and vibrant but not overwhelming the palate with alcohol.
Finish: Long and sumptuous, with the earthy notes supported by a tiny hint of bitterness at the very end.
It's wonderful to taste a whiskey assembled with such care, especially in a market so saturated with gimmicky 'limited editions' that are dressing up whiskey that's either too young or over-the-hill. The whiskies in this batch were obviously at their peak, with a great balance between sweetness and spice and engaging complexity from start to finish. A delectable high note to go out on for Rutledge, and a worthwhile treasure hunt for us, since there are just 12,600 of these bottles to go around.
I give the Four Roses 2015 Limited Edition Small Batch bourbon a rating of 93. 

Spiritless, a producer of non-alcoholic...
Margarett Waterbury is the author of Scotch: A Complete Introduction to Scotland's Whiskies and a full-time freelance writer and editor. Her work has appeared in Whisky Advocate, Food and Wine, Spirited Magazine, Artisan Spirit, Edible Seattle, Sip Northwest, Civil Eats, Travel Oregon, Artisan Spirit, and many other publications. She is...