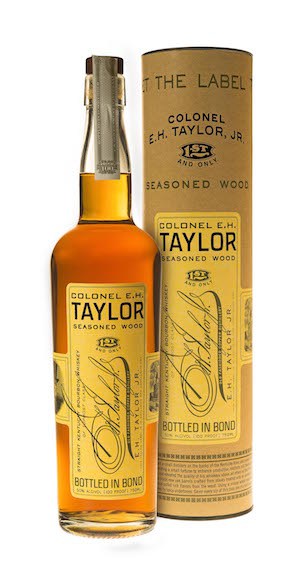 Editor's Note: This whiskey was provided to us a free sample to review by the party behind it. The Whiskey Wash, while appreciative of this, did keep full independent editorial control over this article.
Colonel E.H. Taylor, Jr. hardly needs an introduction. It is a headlining brand from Buffalo Trace that hails from American whiskey history. Famous for their limited releases, E. H. Taylor's newest addition to the family is Seasoned Wood, a wheated bourbon. The eighth limited release since the series began in 2011, Seasoned Wood is said to be an even more limited, limited release than those that preceded it.
Taking a page out of their own book, Colonel E.H. Taylor, Jr. Seasoned Wood appears to be the continuation of last year's Cured Oak release. Cured Oak is a 17 year small batch bourbon which is barreled in casks constructed of staves that were allowed to cure for 13 months. Built by Independent Stave Company specifically for Buffalo Trace, this coopering project varies from others contracted by Buffalo Trace by one very important factor: time.
Normally, barrels built for Buffalo Trace are only allowed to cure for six months, whereas the Cured Oak staves cure for an additional seven months. Buffalo Trace is no stranger to the appeal of prolonged stave curing times, with many of the Single Oak Project releases having been aged in 12 month cured wood. Both last year's Cured Oak and this year's Seasoned Wood are Bottled-in-Bond and 100 proof, and have specialized stave treatments; however, the latter takes its staves to another level. As described by Buffalo Trace,
the barrels in this release underwent a variety of special seasoning processes, including barrels made from staves that were immersed in an enzyme rich bath with water heated to 100 degrees. After spending time in this proprietary solution, these staves were then placed into kilns and dried until they reached an ideal humidity level for crafting into barrels. Other staves were seasoned outdoors for six months, and still others were left outdoors for a full 12 months before being made into barrels and sent to Buffalo Trace Distillery to be filled and aged. All barrel staves were seasoned, dried, and crafted at Independent Stave Company, who consulted on this project with the premiere expert on oak maturation, Dr. James Swan.
Considering the extra effort that has gone into making this E.H. Taylor release so unique, and my previous pleasant experiences with drinking E. H. Taylor expressions in the past, my curiosity was piqued, and my expectations high.
Tasting Notes:
Colonel E.H. Taylor Seasoned Wood is a 10+ year old wheated bourbon that is Bottled-in-Bond, and thus 100 proof.
Color: medium honey.
Nose: new tennis balls, fresh cut wood, and golden raisin notes intermingle with macerated plum and dark cherry, and oatmeal raisin cookie. However, the overwhelming note from start to finish is honeysuckle. After opening, the honeysuckle blocks out almost every other competing scent.
Palate: immediately salty, tannic, and heavily peppered. The tannic notes are not to be outdone by the incredibly bitterness of the dram. Black pepper competes with oversteeped black tea, and wet woodchip, resulting in a blackened peppercorn-crusted steak effect. Altogether very savory, salty, tannic, and bitter.
These elements in concert with some sweetness or fruit on the palate might be pleasant, but as they stand on their own they do no favors to the dram overall. The dry, bitter palate combined with the tannic mouthfeel make for a very lop-sided tasting experience.
Finish: hot rubber, dirt, and red cough syrup come around full circle to meet up with the oversteepened black tea from the palate. The tannic, astringent element of the whiskey takes over mid-palate and doesn't quit, making for long and unpleasant finish.
Conclusion:
Both the high bar E. H. Taylor has set for itself – and the unfortunate realities of this whiskey – work against any interesting production techniques Buffalo Trace may have used. The unbalanced nature of Seasoned Oak cannot be forgiven even by the biggest cooperage nerd. Maybe this expression is appropriate for fans of aggressively oaked tannic wines, or bitter teas such as traditional Matcha, but as a whiskey, I cannot justify the price nor the difficulty in acquisition for this one.
It is clear that Buffalo Trace is out there to try new things and produce interesting, collectibly whiskies, but the oak eclipsed in this case, leaving the whiskey unbalanced and unpleasant. I would take a dram of any other E. H. Taylor expression out there over Seasoned Wood any day.
FINAL SCORE: 77/100
I am a graduate of Lewis & Clark College in Portland, OR whose Environmental Studies thesis focused on "Scotch Whisky, Sustainability, and Commodification of Nature & Culture". While writing my thesis, I spent time living and studying in Glasgow, Scotland where I visited and interviewed distilleries nationwide, concentrating on the...