We typically look to micro-distilleries as the avant-garde of innovative whiskey-making. Perhaps they need an edge to stand out in the crowd. Or perhaps they're run by eccentric creative-types who wake at 4 a.m. to scrawl "quinoa and cilantro mash" on a notepad by the bed. Or perhaps necessity really is the mother of invention and their scanty resources necessitate outside-the-box approaches.
But what if bigger whiskey producers put their hefty resources behind experimental projects? That's essentially what's happening at Buffalo Trace's Warehouse X, which has been releasing examples of their research—sure, we can call it research—since 2006 under the Buffalo Trace Experimental Collection label. Not all of their projects have been as wacky as the infrared experiment in my glass at the moment. Many have focused on the barrel—using different types of wine barrels, varying levels of char, and so on. But there's no telling what else is going on in that small warehouse.
We know they're testing the effects of light, temperature, humidity, and air flow, but we don't really know much else until the results come rolling out. But to further the mystery, many of them never do roll out—they're deemed unworthy of bottling. But don't you kind of want to try them anyway? Luckily, we do get to taste the results of their Buffalo Trace Experimental Collection infrared science project.
I don't have the scientific chops to tell you how infrared light affects oak. But as it turns out, there is an effect. The idea, if I understand correctly, is that it acts as a sort of dry heat, drawing out some of the chemical components (or different chemical components?) we expect from toasting or charring. In a recent experimental release, started some seven years ago, we're offered the results of Buffalo Trace's team of mad scientists trying to determine what would happen to whiskey aged in barrels treated with infrared light—one for 15 minutes and one for 30.  But how, exactly, are the barrels exposed to infrared light? Hell if I know, but a diagram might help.
I can't say what conclusions the distillers came to after this release, but my takeaway is that when it comes to dosing infrared light on a bourbon barrel, the more the merrier.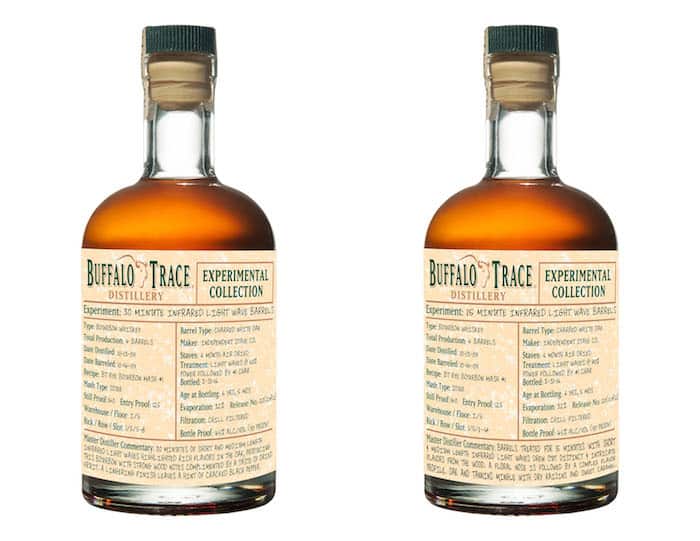 Tasting Notes:Buffalo Trace Experimental Collection Infrared Light Wave
I. 15 minutes of barrel exposure to infrared light
Vital Stats: 90 proof. Aged 6.5 years. Buffalo Trace Bourbon Mash #1. Prices seem to vary from $50 to $180, but there were only eight barrels made (four of each variation), so good luck finding one at any price.
Appearance: It looks exactly like Buffalo Trace bourbon. Red amber.
Nose: Light, clean floral aroma.
Palate: A little flat in terms of complexity. Brown sugar, then some sharp, acidic notes. Hot on the finish.
Thoughts:
It tastes much like the average bottle of Buffalo Trace. Which isn't a terrible thing. I mean, what, did you think the infrared light was going to make it taste like Pop Rocks?
Score: 80/100
II. 30 minutes of barrel exposure to infrared light
Vital Stats: Same as above. 
Appearance: Identical color.
Nose: Less floral and more woody.
Palate: Much softer on the palate, leaning strongly toward oak, but still smokeless. Tannins, raisins, and plums abound, almost as if it had been finished in a port barrel. Considerably less heat, which is replaced with cinnamon and black pepper on the finish. This one's clearly preferable to the 15-min version and—I'll just say it—better than the average bottle of Buffalo Trace.
Thoughts:
The only prescription is… more infrared?
Score: 85/100
Final Thoughts:
This is a silly experiment. To put it another way, I love it. If the work being done in Warehouse X results in new trends in the whiskey world, that's fantastic—infrared whiskey for everyone! But if not, I'll still applaud the effort. The major distilleries have mastered the craft in many ways, producing consistent and tasty spirits at every price point.
No, I don't need something different. But I like imagining that the future of whiskey isn't just a matter of new marketing gimmicks—it may, instead, be in the hands of some very clever and innovative distillers, scientists, and lovable mischief-makers at both the smallest and biggest operations. I'm looking forward with a grin to whatever they have up their sleeves.

The pioneer of barrel-aged stouts...
Mark is a poet, writer, editor, and cheese monger. He's also a real trip on karaoke nights. After leaving a career as an English professor, he started a small business at ParagraphDoctor.com and moved to Portland. Now he's all about birds, bourbon, and breweries. His ridiculous birding blog can be...