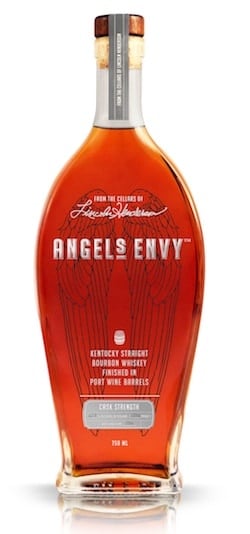 When I tell people I review whiskies, they inevitably ask what my favorites are. And also inevitably, I draw a complete blank, even though I have about 100 bottles at home. I picture all of them, so many that we've had to start storing them on the floor. It's like I think of them en masse, and not with single bottles. And I still can't think of the ones I like.
You'd think by now I would stop getting caught off-guard, but no. It's pretty embarrassing.
Once I get out of the brain fog, a few come to mind. One of them–inevitably—is Angel's Envy. Always consistent, whether to sip neat or with a little ice, or even mixed into a cocktail. It does me no wrong.
So I was pretty stoked to get a sample of the Angel's Envy Cask Strength 2016 bourbon. As we mentioned recently, it otherwise generally follows the same port barrel finished process as the regular Angel's Envy whiskey, which is made from a mash of 72 percent corn, 18 percent rye, and 10 percent malted barley. Once the bourbon has aged a minimum of four years (and up to six years) in white American Oak, it's finished for up to six months in 60-gallon casks that were formerly used to mature port.
Vital Stats: Bottled at cask strength, the Angel's Envy Cask Strength 2016 busts out at 124.6 proof, their highest ever. It might be hard to get a hold of: Angel's Envy is only releasing 8,000 bottles this year. It costs about $180.
Color: Very inviting! Reddish, like a burnished mahogany, a cute sunlit brunette.
Nose: Very subtle! It's funny, when the color is this strong, I expect the nose to follow suit. This…doesn't, exactly. But I do get cherries, chocolate covered almonds, and the vibe that I'm in an oaky, underground cellar. This is not at all unpleasant.
Palate: Very hot! My first sip brought a slight burn on the lips and tip of the tongue. Try it with ice if you get a similar reaction. After that comes a hint of vanilla extract, and oak lolling around in my mouth. And then…alcohol! This is high-proof that tastes high-proof. I think this with some rich holiday-type food might work well, as they would balance each other out nicely. But I'd clink some ice in for sure.
Final Thoughts & Score/Buy A Bottle:
Score: 82/100

The Angel's Envy Cask Strength is well made, but I don't find it life-changing. It was very good, but I was expecting to be, like, magically airlifted to another planet. ("I'm ok to go!") That said, the longer I let it sit, the better it sat with me.
Editor's Note: A sample of this whiskey was provided to us by those behind it. The Whiskey Wash, while appreciative of this, keeps full independent editorial control over this article.

Editor's Note: This RTD was...
A decade ago, I traded a 5th floor walkup in Hoboken, NJ for a house in SE Portland and remain grateful for the swap. Portland's a great whiskey town: It fits the weather and my general mood (even improves it sometimes). I enjoy exploring the many shades of brown liquor...