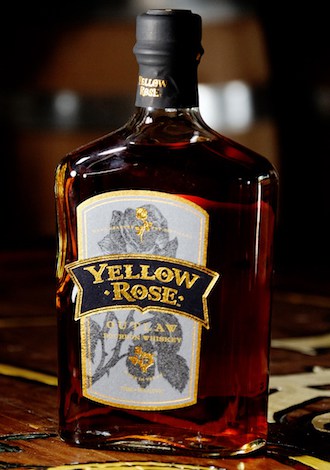 Editor's Note: This whiskey was provided to us as a free sample to review by the party behind it. The Whiskey Wash, while appreciative of this, did keep full independent editorial control over this article.
Here's an underdog: a bourbon from Texas made entirely with corn and aged about half a year. You might wonder what makes that any different from moonshine with a bit of caramel coloring. The stats aren't swoon-inducing.
But somehow, Yellow Rose Distilling in Houston has pulled off an upset. I've certainly tasted better-pedigreed bourbons that weren't as good.
Yellow Rose was founded in 2010 near Houston, started production in 2012, and then moved operations inside city limits as soon as lawmakers allowed them to sell product onsite. Since then, founders Ryan Baird, Troy Smith, and Ryan Whitaker have seen significant success, winning awards from the American Distilling Institute and San Francisco Artisan Spirits.
A Kickstarter campaign helped them take the next step in opening a tasting room. Yellow Rose now produces rye whiskey, blended whiskey (which we posted a review of yesterday), and bourbon—all buoyed by a partnership with local mixologist Houston Farris.
Yellow Rose Outlaw Bourbon is made with organic Texas corn, an old-fashioned pot still, and diminutive barrels which, combined with the Gulf Coast heat, allow the product to soak up the charred oak's qualities in a hurry. The result is sweet as all get-out, but also reveals some smoky, woody notes one might not expect from such a young spirit.
Tasting Notes:
Vital Stats: 92 proof. 100% corn. Aged 5-7 months. About $70.
Appearance: A lovely copper—much darker than any bourbon aged less than two years has a right to be.
Nose: Sweet and floral, but with a hint of oak and char. A bit acrid.
Palate: Surprisingly smoky, as if malted barley were in the mash. You can go back and forth looking for the bright and dark notes, and you'll find them: on one hand caramel, molasses, canola, buttered popcorn; and on the other, plenty of smoke and wood. The mouthfeel is pleasantly oily, allowing the flavor to linger longer than the burn.
Conclusion:
It's perhaps a back-handed compliment to say that it's better than expected, but my point is that it's well worth a try. Texans can take pride (as if they needed any encouragement) in this whiskey. Ernest Tubb didn't waltz across Texas with this stuff in his glass, but you can, and it will most certainly make waltzing (and being in Texas) more enjoyable.

Virginia Distillery Company recently announced...
Mark is a poet, writer, editor, and cheese monger. He's also a real trip on karaoke nights. After leaving a career as an English professor, he started a small business at ParagraphDoctor.com and moved to Portland. Now he's all about birds, bourbon, and breweries. His ridiculous birding blog can be...