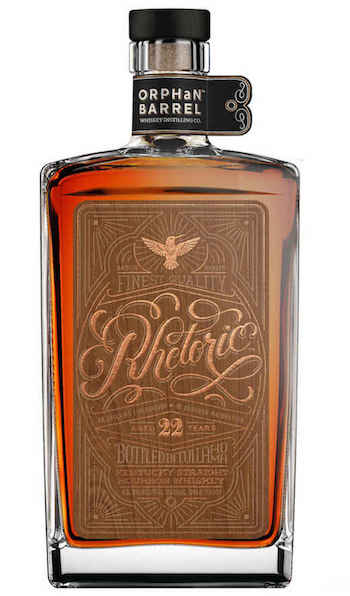 Of the various bottlings from Diageo's premium Orphan Barrel whiskey line up, one of the most fascinating has been the evolution of the Rhetoric expressions. The first, a 20-year-old, came to market back in July, 2014. It was followed last year by a 21-year-old. And yes, this year a 22-year-old was recently unveiled and is now showing up on store shelves.
Orphan Barrel Rhetoric 22-Year-Old, according to Diageo, continues the slow march of this series set to culminate in the debut of a 25-year-old in 2019. Ewan Morgan, Master of Whiskey for Diageo, said in a statement during the 21-year-old release that "the progressive aging experiment we're employing with the Rhetoric series is incredibly unique. We're going to be able to compare a line of bourbons side-by-side to see how aspects of the liquid – color, aroma, flavors and mouthfeel – are impacted by extra time spent in the barrel."
For those unfamiliar with Rhetoric, it is said stocks were found "in the old Stitzel-Weller Warehouses in Louisville, Ky. The whiskey was distilled between 1990–1993 at the Bernheim Distillery historically located at 17 and Breckenridge in Louisville, Ky., while owned and operated by United Distillers." Its mash bill is 86%  corn, 8% barley and 6% rye.
As has been the case with the other Rhetorics so far, the background on the bottle label is reminiscent of the oak barrels in which the whiskey aged, and it will grow deeper in color for each subsequent release. The Rhetoric 22 Year Old, should you want to seek out a 90.4 proof bottle, is pricing around $110. Limited official tasting notes for it are below.
Rhetoric 22-Year-Old tastes of toasted oak dark chocolate with ripe banana and spices of clove and anise. The finish is long and woody ending with dark chocolate notes.

Tickets are now on sale...
Nino Kilgore-Marchetti is the founder and editor-in-chief of The Whiskey Wash, an award winning whiskey lifestyle website dedicated to informing and entertaining consumers about whisk(e)y on a global level. As a whisk(e)y journalist, expert and judge he has written about the subject extensively, been interviewed in various media outlets and...