Patriotism and good old American bourbon made in Oklahoma collide in the recently released Leadslingers Whiskey. This expression was inspired by Article 15, a veterans group out of Texas focused on bringing "unique products to the veteran and second amendment communities."
This group, made up of combat veterans from the US Army Rangers, USAF TACP, Special Forces, and Paratrooper communities, turned to young Scisstortail Distillery out of Moore, Oklahoma to help in developing this bourbon. The distillery, which we first highlighted last year, was among the first to create a bourbon in their state.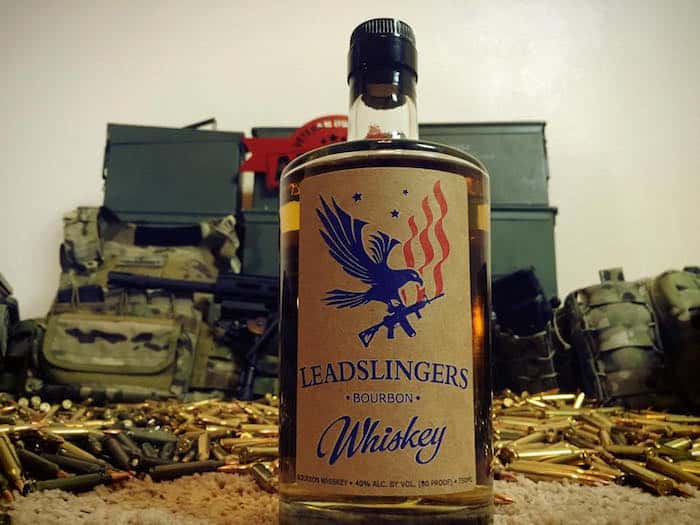 This collaboration, according to an Oklahoma news report earlier this year, is expected to produce some 400,000 bottles of this bourbon this year alone. Though I don't have specific sales figures in front of me to get a sense of how well it is doing, the whiskey's Facebook page is extremely popular for a craft bottling, making it likely Leadslingers is doing well in sales in the various places one can pick it up.
As for what's exactly in the bottle, Leadslingers Whiskey is described as "bringing a light bourbon flavor from its single barrel aging process.  Double distilled and hand crafted … this small batch whiskey melds sophistication and down home flavors. Delivering hints of oak, toffee and vanilla it's sure to satify even the most distinguishing taster."
Bottled at 40% ABV, there looks to be some places online where you may be able to get one if you are curious and your local liquor store doesn't carry it yet. I also suggest you check out the rather unique video for Leadslingers below.

Irish Distillers, maker of Method...
Nino Kilgore-Marchetti is the founder and editor-in-chief of The Whiskey Wash, an award winning whiskey lifestyle website dedicated to informing and entertaining consumers about whisk(e)y on a global level. As a whisk(e)y journalist, expert and judge he has written about the subject extensively, been interviewed in various media outlets and...