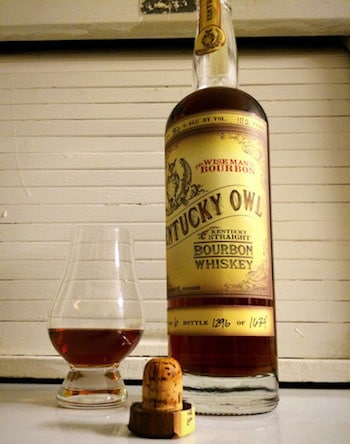 Kentucky Owl Bourbon is one of those American whiskey brands with quite a lengthy and storied history to it. It is also one with a cult following for those who know of it, with each release selling out usually quickly in Kentucky, which is the only place to date it has been for sale at retail. That's about to change, however, as word is out today that Stoli Group and its parent company S.P.I. Group have acquired the rights to what's known as "The Wise Man's Bourbon."
The acquisition of Kentucky Owl Bourbon continues the trend we've been seeing in the last several months of larger spirits players adding to their portfolios well received smaller whiskey brands. Plans call for Stoli to take over the national distribution, sales and marketing, as well as the global rollout, of this bourbon, effective immediately.
Kentucky Owl's most recent owner was Dixon Dedman, great-great-grandson of the bourbon's founder Charles Mortimer Dedman. We interviewed Dixon about his family's bourbon last year, at which time he talked with us about this whiskey being a mingling of sourced, aged stock poured back into new charred barrels and aged further. One thing which also came out of our chat with him was that he didn't really see this bourbon being made for sale outside of Kentucky given that he and his partners did not want to become distillers or expand production.
I'm gonna guess Stoli waved enough money in front of Dedman and the others to change their minds on this. The exact amount paid for Kentucky Owl, as is usually the case in these kind of acquisitions, was not revealed. Dixon will remain on with the brand, acting as its brand ambassador.
"When we began considering American whiskies, we were attracted to Kentucky Owl because of its complex, yet very smooth taste profile," said Dmitry Efimov, CEO of S.P.I. Group, in a prepared statement. "Upon sitting down with the owners and hearing the story, we became really enthusiastic about revitalizing the brand and concluded that this would be the bourbon to anchor a whiskey line for S.P.I. Our USA team is poised to bring this to market."
"Kentucky Owl is a great next step for our portfolio of premium and luxury brands," added Patrick Piana, President of Stoli Group USA. "Bourbons have been experiencing impressive growth recently and we see a strong opportunity in the super-premium sub-category, in particular. I'm looking forward to working together with Dixon Dedman to accelerate the trusted product his family built into the cult bourbon brand for the North American brown spirits consumer."

Editor's Note: This whiskey was...
Nino Kilgore-Marchetti is the founder and editor-in-chief of The Whiskey Wash, an award winning whiskey lifestyle website dedicated to informing and entertaining consumers about whisk(e)y on a global level. As a whisk(e)y journalist, expert and judge he has written about the subject extensively, been interviewed in various media outlets and...