Heaven Hill Distillery recently announced the release of the distillery's Fall 2022 edition of Old Fitzgerald Bottled-in-Bond Kentucky Straight Bourbon Whiskey.
This expression, aged 19 years, is the oldest to date in this line.
A statement from Heaven Hill explained that the Fall 2022 edition is made up of liquid from barrels produced in September of 2003, and bottled a month ago, in October of 2022.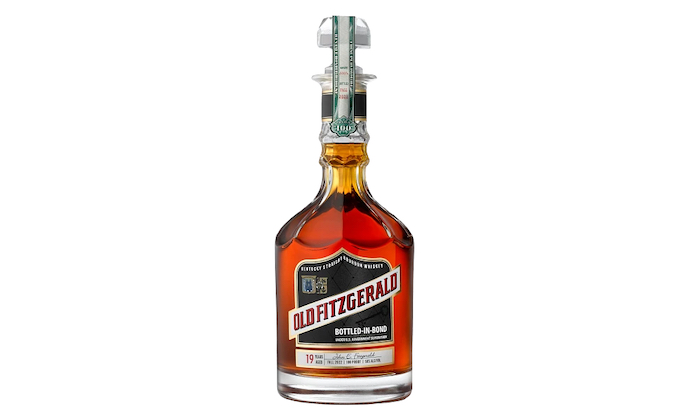 This is the tenth national release of the iconic whiskey series.
This Old Fitz is bottled in the hallmark ornate decanter, and the fall edition features a black label, consistent across all fall releases.
Just as in past editions, the tax strip (a signature of transparency on bottled-in-bond products) will disclose when the liquid was produced and bottled. The bottled-in-bond designation meaning it meets the strict requirements of a product of a single distillery, from a single distilling season, aged a minimum of four years, and bottled at 100 proof or 50% alcohol by volume.
The Fall 2022 edition of Old Fitzgerald Bottled-in-Bond Kentucky Straight Bourbon Whiskey is the first 19-year-old of the nationally released series and features bourbon pulled from across three floors of rickhouse F and one floor of rickhouse X at Heaven Hill Distillery's main campus.
The Old Fitz fall edition will be allocated, and the 750ml bottle has a suggested retail price of $240.
Acquired in 1999 by Heaven Hill, the Old Fitzgerald line is named for John E. Fitzgerald, whose legacy is also represented by the Larceny Bourbon brand.
Heaven Hill Distillery maintains more than 1.9 million barrels aging in more than 65 warehouses throughout Kentucky's Nelson and Jefferson Counties. Its brands include Elijah Craig Bourbon, Larceny Bourbon, Evan Williams Bourbon, Pikesville Rye Whiskey, Rittenhouse Rye Whisky, Parker's Heritage Collection, and Old Fitzgerald.
For more information, check out www.heavenhilldistillery.com.

Seven distilleries across the Pacific...
Gary Carter has been at the helm of metro newspapers, magazines, and television news programs as well as a radio host and marketing manager. He is a writer/editor/photographer/designer by trade, with more than 30 years experience in the publishing and marketing field. Gary enjoys working to build something great, whether...