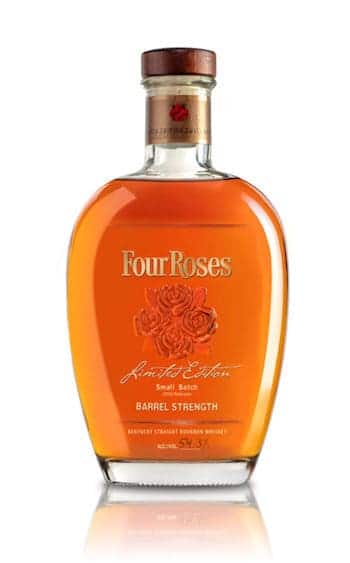 And we are off to the Kentucky bourbon limited edition races, 2016 style. The early days of September mark the opening of the floodgates for the yearly quest to collect as many of the harder to find American whiskey releases as one can. So far, there's been word of Old Forester Birthday Bourbon and Parker's Heritage from Heaven Hill, and now joining these is the Four Roses 2016 Limited Edition Small Batch Bourbon. This year is the first time in more than seven years that the OESO recipe has appeared as part of the blend.
For those unfamiliar with Four Roses, the Kentucky bourbon distillery is known far and wide for being the only bourbon distillery to combine two mash bills with five proprietary yeast strains to distill and age ten distinct bourbon recipes, each with its own unique flavor profile. Among their rarer offerings is the Limited Edition Small Batch release which, this year, includes a 12-year-old from the OESO recipe, a 12-year-old OBSV, and a 16-year-old OESK. The three together give this bourbon an average age of over 13 years.
"When I tasted the sample from that OESO barrel, I knew I wanted it to anchor this Limited Edition Bourbon," said Four Roses master distiller Brent Elliott in a prepared statement. "We were able to highlight its exceptional fruitiness and balance it out with more age and spice from the two other recipes."
Four Roses plans to have 9,258 hand-numbered bottles of the 2016 Limited Edition Small Batch Bourbon, each bottled at 111.2 proof, pushed out to retail starting later this month. There was no immediate mention of price. As for tasting notes, some official ones are below from the distillery for your consideration.
The remarkably balanced 2016 Limited Edition Small Batch introduces bright notes of sweet cherry and crisp green apples, mingled with rich apricot and structured rye aromas. Tart citrus flavors greet the palate, then give way to hints of sweet molasses, peppery spices and decadent crème brulee. The finish is long and gentle, with delicate honey and light mint.

The second in its series...
Nino Kilgore-Marchetti is the founder and editor-in-chief of The Whiskey Wash, an award winning whiskey lifestyle website dedicated to informing and entertaining consumers about whisk(e)y on a global level. As a whisk(e)y journalist, expert and judge he has written about the subject extensively, been interviewed in various media outlets and...