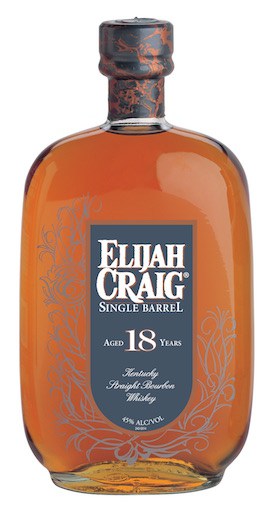 Heaven Hill, besides bringing to market as part of the fall bourbon release cycle the very hard to find John E. Fitzgerald Very Special Reserve, has announced it is returning to store shelves its popular Elijah Craig 18 Year Old bourbon. The whiskey had been away from retail for three years due to so-called "inventory shortages." It will be joined by a 23 year old expression.
The Elijah Craig 18 Year Old Single Barrel, according to Heaven Hill, was first introduced in 1994. It was one of the oldest single barrel bourbons on the market when it came out. Owing to the cult-like status this whiskey now holds among collectors, the 2015 edition is being released in most major metro markets nationwide on an allocated basis. Only 15,000 bottles of it will be floating around out there, each pricing around $120.
As for the other bottling, the Elijah Craig 23 Year Old Single Barrel, you can expect that to be on an even more strict allocation compared to its younger sibling. Heaven Hill did not offer information on a specific bottle count, only saying a "limited number of barrels" worth are hitting markets for a price of around $200 per bottle.
Heaven Hill offered some insight into how it chooses what single barrel expressions are turned into its latest releases. According to them,
From an aging inventory of 1.1 million barrels, the second largest American Whiskey holdings in the world, Master Distillers Craig Beam and Denny Potter select only barrels that have rested at low storage, and then further choose only those that meet their strict nosing and taste criteria.  While taste nuances will vary slightly from one barrel to the other, as they should in a single barrel offering, in general they have selected for complex, multi-layered taste profiles that balance the 18 years in new charred oak with sweet and spicy grain notes.  As befits a Bourbon that has seen 72 variable Kentucky seasons, the finish is long and warm.
"We at Heaven Hill have been offering aged Bourbons and single barrel bottlings as old as 18, 23, or even 27 years, for longer than anyone else," said Susan Wahl, Senior Brand Manager for Whiskeys at Heaven Hill Brands, in a statement. "Our experience in this arena, along with our renowned quality standards and inventory of over one million aging barrels, means we can select and bottle extra-aged Bourbons that are unlike any others in the world, and provide a unique tasting experience for the true aficionado.  This is really showcased in the Elijah Craig 18 and 23-Year-Old Single Barrel bottlings."
[graphiq id="lYgRukWPL3D" title="Elijah Craig 18 Year Bourbon Overview " width="700″ height="514″ url="https://w.graphiq.com/w/lYgRukWPL3D" link="https://whiskey.underthelabel.com/l/481/Elijah-Craig-18-Year-Bourbon" link_text="Elijah Craig 18 Year Bourbon Overview | UnderTheLabel"]

Copper & Kings, Kentucky's American...
Nino Kilgore-Marchetti is the founder and editor-in-chief of The Whiskey Wash, an award winning whiskey lifestyle website dedicated to informing and entertaining consumers about whisk(e)y on a global level. As a whisk(e)y journalist, expert and judge he has written about the subject extensively, been interviewed in various media outlets and...