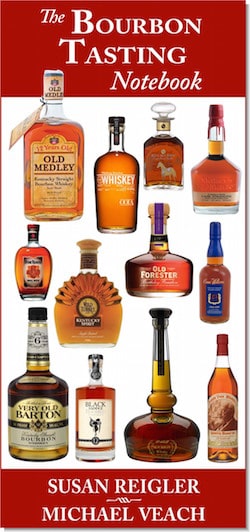 Michael Veach and Susan Reigler have a new book out called The Bourbon Tasting Notebook
.  Veach says he was recruited a few years ago to do this book and said he wouldn't do it without Reigler, another renowned bourbon and tourism writer from Kentucky.  Together they tasted over 200 bourbons and put their findings together in an easy-to-use format.
"We didn't do it all in one evening," laughs Reigler, with Veach adding, "It took us a week!"  The entire process took over two years, and they were together for nearly all the tastings.  The pair limited themselves to about 5 at a time so as not to confuse their taste buds.  The majority of what's in the book are things that are readily available on the shelves, not rare special releases.
They opted not to do a ratings system in this book, instead leaving space for readers to take their own notes to compare with theirs.  "People's palates are very different . . . we always say when we're doing tastings there are no wrong answers," says Reigler.  Veach continues, "If you taste black olives in that bourbon I'm not going to disagree with you.  I may think you have a very strange sense of taste, but I'm not going to disagree with you.  If you taste it, you taste it."
Perhaps the best thing about this notebook is the indices.  The bourbons are indexed by proof, bottled in bond, wheaters, price, and many more.  So if you'd like to choose a wheater, you can pick one out of the index.  If you want to choose a bottled in bond, you can pick one out of the index.  This book would be a great resource for any bar or restaurant with a large bourbon selection to help patrons make an informed selection.
You can pick up a copy of The Bourbon Tasting Notebook through Amazon here.

Irish Distillers, maker of Method...
One night during Derby week, I was working in the liquor store while Four Roses Master Distiller Jim Rutledge was doing a tasting. I kept trying to make my way over to talk to him, but we were super busy (did I mention it was Derby week?) and I didn't...