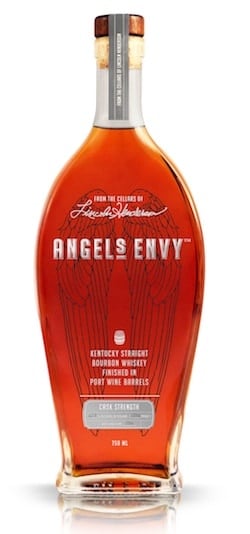 Louisville Distilling Company, the force behind the popular port barrel finished Angel's Envy, has as their yearly contribution to the limited edition bourbon release cycle each fall a cask strength version of their whiskey. It has now debuted for 2016, with word the Angel's Envy Cask Strength 2016 bourbon will be available in some 20 states and Washington D.C.
The Angel's Envy Cask Strength 2016 bourbon, according to the distillery, has a rather nice higher proof level of 124.6 proof, or 62.3% ABV. It is otherwise generally follows the same port barrel finished process as the regular Angel's Envy whiskey, which for now continues to remain sourced as Louisville Distilling builds their own in-house stock. This process, in fact, began just a short time ago, so it will be a few years likely before we see the first of their own distilled bourbon in bottle.
"Cask Strength is a rare and remarkably complex bourbon unlike any other you've ever tried," said Wes Henderson, Chief Innovation Officer, Angel's Envy, in a prepared statement. "It's more than a limited release; it's a significant whiskey event."
Angel's Envy, in general, is aged up to seven years to get it to where Henderson and his team like it. Those barrels which are chosen for Cask Strength are then blended and get the previously mentioned extra aging in Portuguese port wine casks before being bottled.
Official tasting notes for Angel's Envy Cask Strength are below for your consideration. It is pricing around $180 and will be available in AZ, CA, CO, FL, GA, IL, IN, KY, MA, MI, MO, NJ, NV, NY, OH, OR, PA, TN, TX, WA, and Washington, DC.
Color: Rich gold with an amber depth
Nose: Rose petals, dense fruitcake, freshly picked strawberries, cracked black peppercorns, clove
Palate: Caramel coffee, dried fig, aged tobacco, toasted sourdough bread
Finish/Feel: Rich and buttery, with a bit of a burn at full proof. Add a touch of water and it lingers enjoyably

Irish Distillers, maker of Method...
Nino Kilgore-Marchetti is the founder and editor-in-chief of The Whiskey Wash, an award winning whiskey lifestyle website dedicated to informing and entertaining consumers about whisk(e)y on a global level. As a whisk(e)y journalist, expert and judge he has written about the subject extensively, been interviewed in various media outlets and...