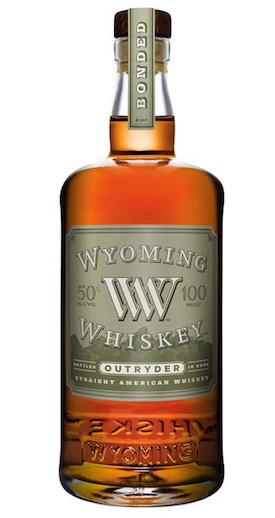 Wyoming Whiskey, based, you guessed it, in Wyoming, has been rather quiet of late on the new releases front. They've been all about bourbon  for a while now, though this doesn't mean they've been avoiding other whiskey styles. It is to this end they've just unveiled Wyoming Whiskey Outryder, a straight American whiskey laid down back in November, 2011.
Wyoming Whiskey Outyrder, according to the distillery, represents their "first use of rye, along with corn and malted barley, to craft a straight whiskey from two distinct mash bills." The two whiskeys specifically used for this release have non-GMO mash bills: one contains 48% winter rye, 40% corn, and 12% malted barley; while the second reflects a traditional bourbon mash bill of 68% corn, 20% winter rye, and 12% malted barley.
"While bourbon continues to be our focus, it is important to show that a variety of great whiskies can be made in Wyoming," said Wyoming Whiskey co-founder, David DeFazio, in a prepared statement. "Outryder is the spicier brother of our Small Batch Bourbon and has quickly become a favorite among our distilling team."
Plans call for the equivalent of 2,640 cases worth of Wyoming Whiskey Outryder to be made available beginning later this month. Each bottle will price for around $55. Very limited official tasting notes are below from the distillery for your consideration.
Outryder has an initial nose of creamy browned butter with cinnamon, clove and allspice, along with freshly baked, dark-rye bread. Hints of orange blossom honey are on the palate. A long, spicy rye finish is coupled with hints of buttery toffee.

Bruichladdich Distillery recently announced the...
Nino Kilgore-Marchetti is the founder and editor-in-chief of The Whiskey Wash, an award winning whiskey lifestyle website dedicated to informing and entertaining consumers about whisk(e)y on a global level. As a whisk(e)y journalist, expert and judge he has written about the subject extensively, been interviewed in various media outlets and...